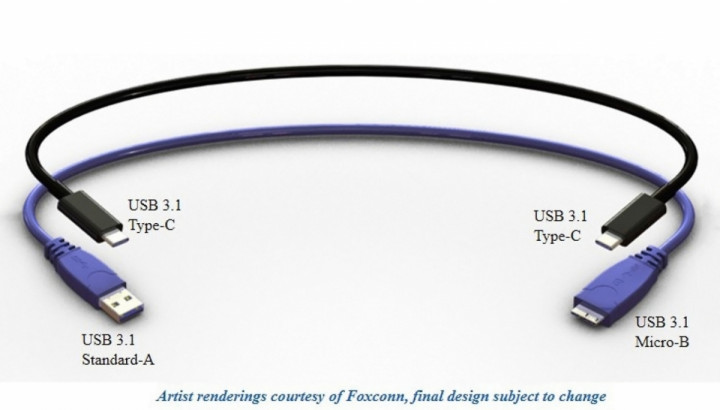 The USB 3.0 promoter group has officially announced the latest USB standard called the USB Type-C, which gives rise to the next-generation USB connector type. Type-C USB standard is designed by keeping mobile device connectivity needs in mind, but the next-generation connector can also be used to interface tablets and laptops.
"Interest in the USB Type-C connector has not only been global, but cross-industry as well," states Brad Saunders, chairman of USB 3.0 Promoter Group, in an official press release.
The USB 3.0 Type-C specification also brings along a new Type-C connector and cable, for establishing interface with external devices.
According to the USB 3.0 Promoter Group, the new connector and cable will offer performance at 10Gbps, along with supporting power delivery at 100Watts.
One aspect that needs to be noted at this point in time is that the new Type-C USB 3.0 plug will not work with the existing Type-B (and older versions) connectors.
Type-B connectors are used by most smartphones and other devices today. However, the USB Type-C standard defines passive new-to-existing cables and adaptors to allow usage of the new Type-C connector with current devices.
"USB has the luxury of consumer familiarity and trust, and as we adapt the technology for the future we are committed to ensuring the USB brand promise continues with this new USB Type-C connector and cable," stated Jeff Ravencraft, COO and President of USB-IF.
Key tech-specs and features of USB 3.0 Type-C:
Durability: 10,000 cycles
Receptacle opening
Power delivery capacity: 3A for standard cables and 5A for connectors
Designed to support future USB performance needs
Supports scalable power charging
Reversible plug orientation and cable direction
Similar to size of USB 2.0 Micro-B
New design tailor-made to adapt to emerging product designs.
Hinting that future devices incorporating USB 3.0 Type-C standards are on the way, Tom Bonola, HP Fellow and Chief Technologist for Business Personal Systems at the company stated "HP is committed to the new USB Type-C connector as a way to deliver on all of these needs while supporting the full breadth of USB devices and providing a pathway for future innovations to create and deliver superior customer value and experience."