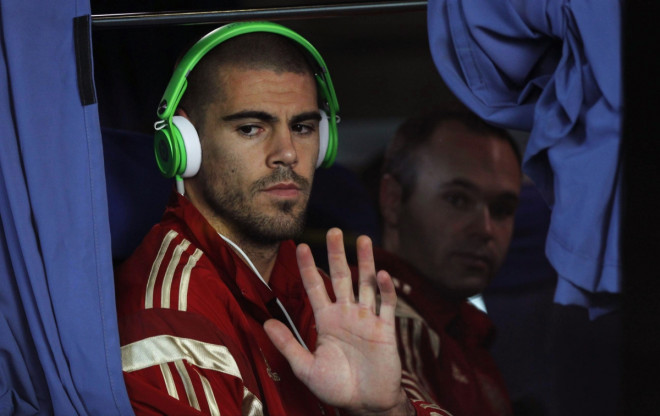 Barcelona goalkeeper Victor Valdes has penned an open farewell letter to his club, claiming that Manchester United target Louis van Gaal was the initiator of the La Liga giants' golden era.
The main candidate to replace Ryan Giggs at Old Trafford was the manager who gave Valdes, Xavi Hernandez and Andres Iniesta their debuts in Barcelona's first team, and all three went on to become crucial cogs in the Blaugrana machine under both Frank Rijkaard and Pep Guardiola.
Valdes had already expressed his desire to leave the Nou Camp at the end of the season and now has officially bidden fareweel with a letter of gratitude to the supporters, the club and its various managers, starting with Van Gaal "for backing what only he could see" in him.
"Thank you to Louis Van Gaal, for showing the courage necessary to gamble on a talent that only he could see. He began building this historic Barça side, which I have been privileged to be part of. My heartfelt thanks," Valdes said.
The goalkeeper continued: "Thank you Frank Rijkaard, for giving me the confidence necessary, and allowing me to achieve glory, getting my hands on the European Cup in Paris. Wherever you are, I will be indebted to you for the rest of my life boss.
"Thank you Pep, for having opened the door to playing a game that was unknown to me, for guiding me along the road where one has to keep looking for success, and we did it together, right? We'll always have that boss, and believe me, it will be eternal!
"Thank you Tito! Wherever you are, I thank you for having taught us not only the way to keep winning as a team, but also the strength and character needed to face life."
Valdes joined Barcelona from Tenerife as a teenager and after spending 12 seasons in the first-team he has decided to leave the club in search of a new challenge.
City, Arsenal and Liverpool have all been linked with his signature but it looks as though he will finally join Monaco after recovering from an injury that has prevented him from playing since March.
During his 12 seasons at Barcelona he has won six La Liga titles, three Champions League crowns, two Copa del Reys, two European Super Cups and the Club World Cup twice.