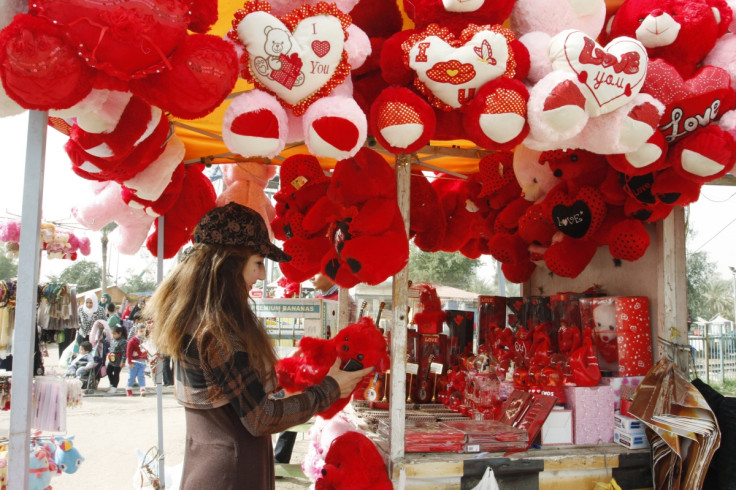 Residents of Preston will be the most generous lovers this Valentine's Day, according to data from Worldpay. They are expected to spend more than the residents of any other town or city in the UK, on the day.
An analysis of Valentine's Day gift-buying data by the payment processing company indicated that Prestonians will spend an average of about £53 (€68, $77) per person on gifts and treats for their loved ones. This figure is 18% more than the national average Valentine's Day spending of £45. According to the analysis, Milton Keynes with an estimated spend of £49 per person stood second, while Aberdeen with a figure of £48, stood third in the list of cities that spend the most on the day dedicated to celebrate love.
On the other hand, cities whose residents are expected to spend the least were found in the West Midlands. Residents from Coventry and Walsall are expected to spend just £26 on an average this Valentine's Day on their partners. This is 50% lower than the average spend of their northern counterparts.
While a total of £1.6bn is estimated to be spent towards gifts and treats across the UK, a majority of the lovers are expected to express their love with flowers. This would see the revenues at florists triple. According to Tesco's estimates, the supermarket chain alone sells about one million flower bouquets every Valentine's Day.
Will Wynne, founder of ArenaFlowers, an online florist company said, that compared to average sales per week, his company has seen revenues rise by 15 times during the run-up to Valentine's Day, with £35 being the average spend of a shopper.
Dave Hobday, Worldpay's UK managing director said, "Valentine's Day is bigger than Christmas for certain sectors — particularly if you happen to be a florist in Lancashire, where local residents really seem to go to town on spoiling their loved ones."
Other businesses that would benefit include restaurants that are estimated to see an uptick of 14%, while both jewellers and hotels are estimated to see a surge in sales by 30%. "Most business owners will be focusing on how to maximise profits over the intense and increasingly panicked 48 hour period up to and including Valentine's Day," Hobday added.
Since Valentine's Day 2016 falls on a Sunday, Worldpay has dubbed 15 February as "make up Monday", as lovers who would have forgotten to gift their lover on Valentine's usually try making up for the same on the following day. "The shrewdest shop owners will also be making sure to keep some stock back for Monday morning, when our data suggests there's a premium to be made out of penitence" Hobday added.
The list of different cities and their average expected spends on Valentine's Day 2016:
Rank
Town
Average spend on Valentine's Day gifts
1
Preston
£53.36
2
Milton Keynes
£49.27
3
Aberdeen
£48.80
4
York
£48.21
5
Edinburgh
£47.84
6
Plymouth
£47.20
7
Huddersfield
£46.40
8
Birmingham
£46.27
9
Bedford
£46.26
10
Glasgow
£46.17
11
Stockport
£45.81
12
Doncastle
£45.26
13
Newcastle
£44.99
14
Liverpool
£44.84
15
Bradford
£44.26
16
Wigan
£44.08
17
Reading
£43.96
18
London
£43.30
19
Bolton
£43.19
20
Bournemouth
£43.06
21
Oldham
£42.72
22
Colchester
£42.60
23
Northampton
£42.50
24
Leeds
£42.38
25
Cardiff
£42.10
26
Manchester
£41.54
27
Stoke-on-Trent
£41.42
28
Norwich
£41.32
29
Barnsley
£41.15
30
Warrington
£41.08
31
Middlesborough
£39.69
32
Ipswich
£38.77
33
Leicester
£38.38
34
Newport
£37.87
35
Swansea
£37.86
36
Lincoln
£37.71
37
Derby
£37.59
38
Rotherham
£36.95
39
Nottingham
£36.89
40
Luton
£36.46
41
Brighton
£36.20
42
Peterborough
£36.08
43
Sheffield
£35.56
44
Bristol
£35.55
45
Wolverhampton
£35.21
46
Swindon
£34.63
47
Southampton
£34.51
48
Hull
£32.55
49
Coventry
£29.67
50
Walsall
£26.74
National average
£45.10