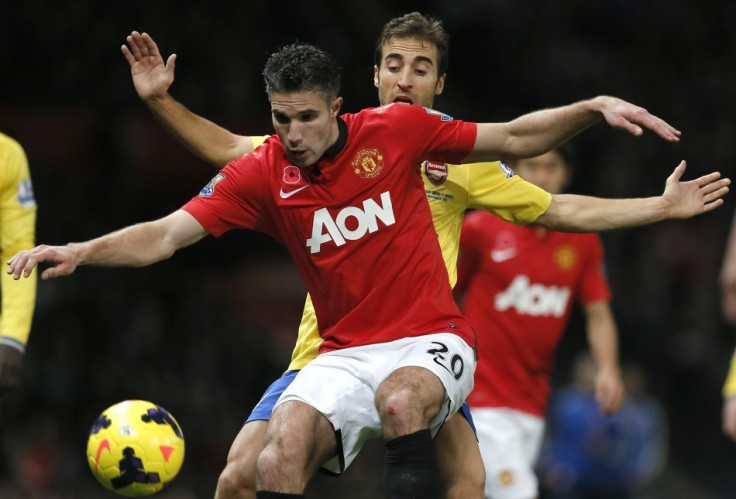 Robin van Persie has revealed he had no role in Manchester United's decision to appoint Louis van Gaal as their new manager for the next season.
The former Barcelona and Bayern Munich boss will take charge at Old Trafford after completing the World Cup campaign with the Holland national side. The 62-year-old will replace David Moyes, who was shown the exit door after a poor run in all competitions.
The former Arsenal skipper, however, expressed his delight to work under Van Gaal at United as the two are closely associated, being a part of the Dutch national side. Van Persie has admitted the club did not contact him before appointing Moyes' successor.
"No, the management of Manchester United did not ask me. But if they watched from a distance they would know how we have been with each other," Van Persie told the Dutch newspaper Algemeen Dagblad.
"I have had two very pleasant years under him with the Oranje. He is very clear. I'm going to have a new process over the next two years with Van Gaal at my club. I'm really looking forward to it."
The 30-year-old has heaped praise on United's incoming manager and suggested that Van Gaal keeps working closely with the players even outside the pitch.
"The technical staff is continuously on top, not only during training, but also in the hotel. Or if we come together for a discussion," United striker said.
"It's a different kind of approach than I was used to from previous coaches. But I like it very much. It's nice Dutch. Very direct, but to get better. And I do not find it tiring, I just get the energy," Van Persie concluded.
United suffered a nightmare 2013/14 campaign as they finished seventh in the league table. Their final league standing has seen them miss out on both the Champions League and the Europa League next season.
Van Gaal has already discussed the summer plans with United owners, the Glazers, as he has set his sights on winning the Premier League in his debut season.