Vanity Fair has been accused of lightening 12 Years A Slave star Lupita Nyong'o's skin in its latest issue.
The 30-year-old Kenyan actress, who has been nominated for an Academy Award, features in the Vanities section of the magazine wearing a white strapless gown and is surrounded by white balloons, features in the magazine's Vanities section for February.
Nyong'o's skin, however, appears significantly lighter. The apparently altered image has not gone unnoticed by commentators who have turned to Twitter to express their dismay.
Washington, D.C.-based publicist Renee Kelly tweeted: "@VanityFair: The stunning @Lupita_Nyongo did you lighten her skin."
Meanwhile Brooklyn's Nocciola Nazgul asked: "did vanity fair seriously lighten lupita's picture? really? did this happen?"
However some believe that the Vanity Fair images are simply a product of bright set lighting, rather than deliberate skin lightening.
Clutch magazine have spoken in defence of Vanity Fair pointing out that the brighter tone to her skin is the result of the on set lighting.
"white balloons, ultra-white background, big, bright lights -- which any Black woman (or woman of colour) will tell you will cause your skin to appear lighter," they stated.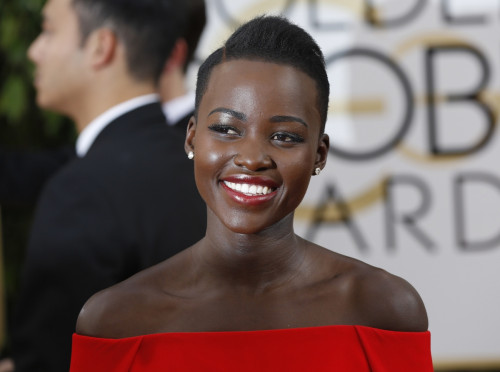 Nyong'o, has appeared on the cover of several magazines such as Dazed and Confused and W magazine, with little comparative alteration to her skin tone.
The Mexican born actress, who now resides in Brooklyn is yet to comment on the editorial.
The Yale School of Drama graduate was nominated for a Golden Globe for her evocative portrayal of slave Patsy in Steve McQueen's critically acclaimed film. She looked stunning at the awards, wearing a $7,000 red-caped Ralph Lauren gown.
She will next compete with Sally Hawkins, Jennifer Lawrence, Julia Roberts and June Squibb for the best supporting actress Oscar at the forthcoming 86th Academy Awards.
Nyong'o's will be seen next playing a flight attendant in the action film Non-Stop which stars Liam Neeson, Julianne Moore, and Michelle Dockery.