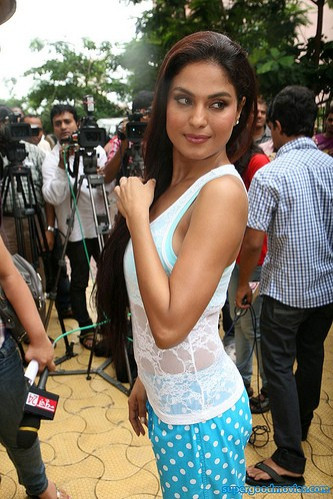 With all the media attention and controversy diverted towards Pakistani actress Veena Mailk's alleged nude photoshoot for an Indian men's magazine, one has certainly "overlooked" the details in the legal notice sent by the actress demanding a compensation of Rs 10 crore (approx $ 1.95 million) towards damages.
According to the IBN Live, Veena's legal notice cites her current address in Bandra. But, here's the twist in the tale. The starlet shares her residence address with none other than Ashmit Patel. So, should one conclude that she is staying with her alleged ex-beau?
Once rumoured as a couple, Ashmit and Veena have been in the gossip circuit when they participated in the Indian version of Big Brother - Bigg Boss 4 - and appeared as lovebirds on and off screen. Amidst speculations and rumours, the pair always maintained the "just friends" status.
"Veena has been staying in Bandra which belongs to Ashmit. It is clear that he has been a great source of support to her in every move she has made in India," IBN Live has quoted a source as saying.
The current nude magazine controversy goes hand-in-hand with the new publicity shoots of the fourth season of television show "Swayamvar 4" featuring Veena Mailk in "Veena Ka Vivaah" (Veena Malik's marriage).
It is interesting to note though the close-bonded "friendship" between Ashmit and Veena is touted as "special," the former Bigg Boss contestant has agreed to be part of the reality show where the celebrity must choose a prospective partner. However, looking at the past, it appears former "lady" contestants Rakhi Swant and Ratan Rajput had only participated in the show for publicity gimmick. In the real sense, it was only Rahul Mahajan who tied the knot with Dimpy Ganguly.
"Whether she (Veena Malik) really marries or not is to be seen. But in the past, Rakhi Sawant and Ratan Rajput-marriages on the show ended up only as engagements meant to be broken," IBN Live has quoted the source as saying.
Meanwhile, the Pakistani actress has maintained her stand in the legal notice and said there were no nude photographs taken nor there were any nude videos of her during the men's magazine shoot. However, the FHM magazine says they have photographic evidence to prove their point.
Veena Malik remained unavailable for comment.