Venezuela: Riot police 'use excessive force' against anti-Maduro protesters
Some 57 people have been killed in two months of protests against Nicolas Maduro's government.
Venezuela's chief prosecutor has accused security officers of excessive force against protesters taking part in the massive anti-government rallies that have crippled Caracas for two months. Luisa Ortega said 55 people had been killed in unrest, around 1,000 others injured, and 346 properties burned or looted as chaos flares across the oil-rich country.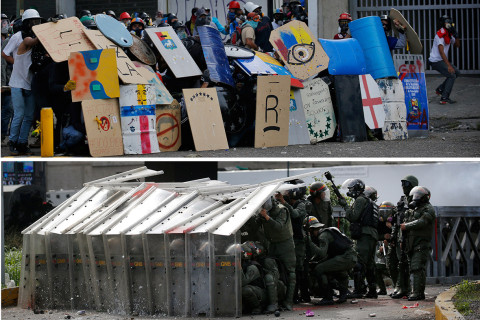 In one particularly controversial case, Ortega said investigations showed that 20 year-old student Juan Pernalete was killed by a tear gas canister fired from close range by a National Guard, not by a pistol as officials had suggested. "Firing tear gas directly on people is banned," she said. More than half of the injuries have been caused by security forces, she said, condemning violence on both sides.
Soon after the speech, her office announced two more deaths in the unrest, including a 14-year-old, taking the total to 57.
Ortega also condemned the use of military tribunals to judge protesters, saying her office is investigating seven cases of military courts trying people who should be in civil courts. Rights group Penal Forum has said that 338 people have faced proceedings in military tribunals in recent days, with 175 still detained. It has said that in total, over 2,700 people have been arrested since early April, with more than 1,100 still behind bars.
Looting, roadblocks and riots are now commonplace around Venezuela given hunger, hopelessness, easy access to weapons, and gangs taking advantage of chaos as protests spin out of control. In many places, school classes have been cancelled, public transportation halted, and streets barricaded. Some neighbourhoods look like war zones after pillaging of bakeries and warehouses.
There was continued unrest around the country on Wednesday, with people barricading streets in some places.
A protesting violinist, who has been a regular fixture playing the National Anthem and other tunes despite tear gas, flying rocks and petrol bombs in Caracas, told reporters that security forces broke his instrument on Wednesday. A video of him crying with his smashed instrument went viral on Venezuelan social media.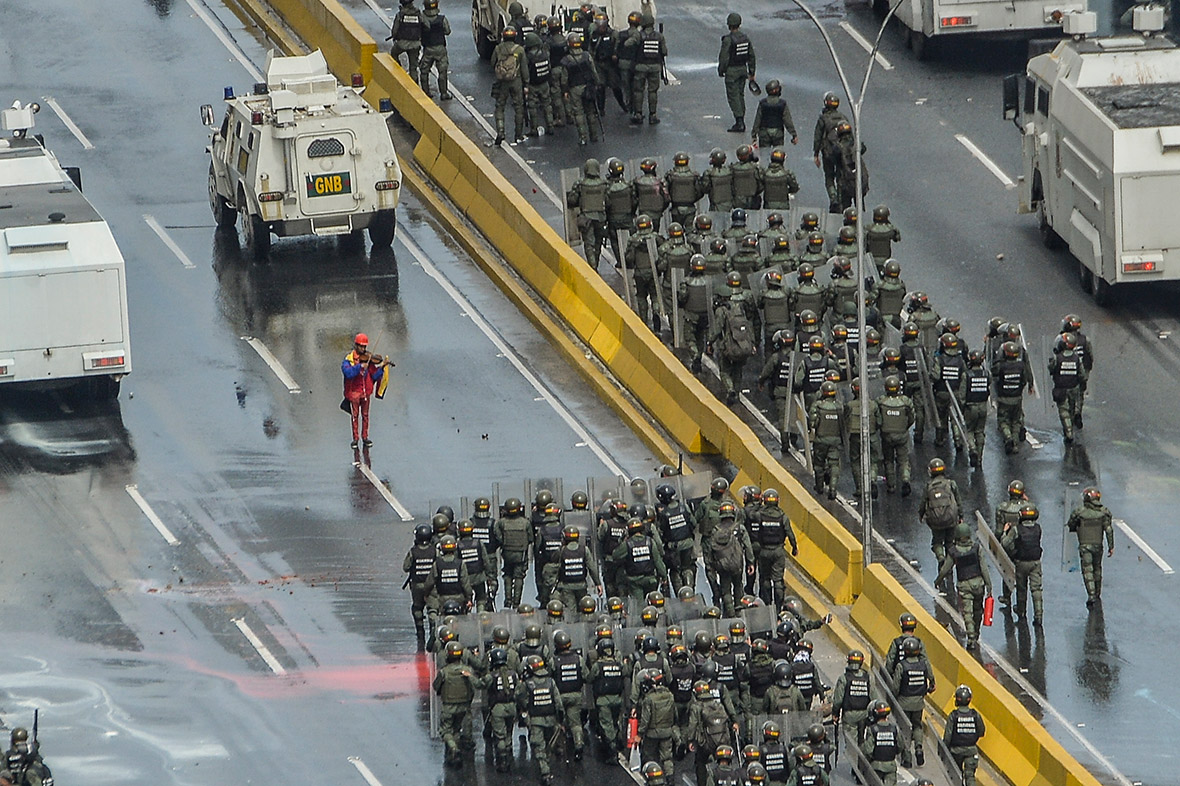 A man who was set alight on Saturday (20 May) by protesters in Caracas appeared on state television from his hospital bed and said that he had been attacked for being a government supporter, echoing Maduro's version of the incident. "They said I had to die because I was a 'Chavista'," said Orlando Figuera, adding that he was not a supporter of the ruling 'Chavismo' movement named for the former president.
Witnesses to that incident, including a Reuters photographer, had said the crowd accused him of being a thief. But officials have said that the attack on Figuera was an example of the "fascist" violence they are facing.