Venezuelan security forces battled protesters who lit fires and hurled stones and petrol bombs in rage at President Nicolas Maduro's decree to create an alternative congress. One 17-year-old protester died in the melee from an object that hit him in the neck, said Gerardo Blyde, a district mayor for the opposition.
Shocking photos have emerged of a protester being engulfed in flames when a police motorbike's gas tank exploded. He survived, but is badly burned.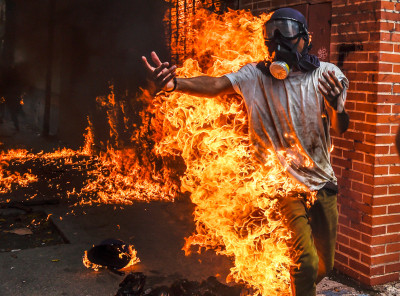 National guardsmen launched tear gas at demonstrators who tried to march toward the National Assembly. The confrontation grew increasingly violent, with anti-government protesters setting an officer's motorbike on fire. At another point, an armoured vehicle set aflame pushed into a crowd of demonstrators.
Youths donned gas masks and bandanas, protecting themselves with homemade shields, painted in bright colours and decorated with slogans like "Liberty!" and "Murderer Maduro!" Two protesters were knocked over by a National Guard vehicle. Both survived.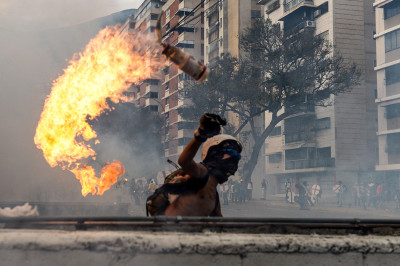 Freddy Guevara, the legislature's first vice president, was whisked away by fellow protesters after apparently being struck in the foot by a tear gas canister. He later emerged with white bandages wrapped around the wound, vowing to stay in the streets until the opposition triumphs. "An injury from your dictatorship is a medal of honour," he tweeted to Maduro.
At least 35 people have died in the political turmoil that has gripped Venezuela for a month. Hundreds more have been injured, including more than 150 on Wednesday (4 May) alone.