Indian start-up company, Ducere Technologies, is all set to launch GPS-enabled sports shoes, LeChal, that vibrate to guide the wearer, according to NDTV News.
LeChal, meaning 'take me along' in Hindi, shoes are equipped with a detachable Bluetooth transmitter that is linked to a smartphone app that guides the wearer using Google maps.
The shoes vibrate to direct the wearer whether to take left or right, and keep a count on the distance travelled, calories burnt and number of steps taken.
Founders, Krispian Lawrence, 30, and Anirudh Sharma, 28, were engineering students who started their company, Ducere, in 2011, in a small apartment. The company now boasts a staff of 50 employees.
"We got this idea and realised that it would really help visually challenged people, it would work without any audio or physical distractions. It felt so liberating not having to look down at your phone or being tied to anything.
"The footwear works instinctively. Imagine if someone taps your right shoulder, your body naturally reacts to turn right, and that's how LeChal works," said Lawrence in an interview with AFP News.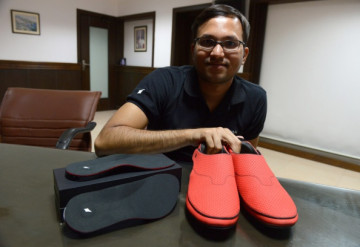 Despite, competitors already offering shoes aimed at dementia sufferers, LeChal shoes are being designed to appeal to those who are looking for functional footwear, yet want something stylish.
"Earlier, wearable technology was always seen as machine-like, nerdy glasses or watches, but now that is changing," said Lawrence.
Dr. Anthony Vipin Das from the L.V. Prasad Eye Institute in the southern city of Hyderabad who is testing LeChal shoes says: "It's a perfect intuitive wearable item. You may forget to wear a belt or a helmet, but shoes you can never leave the house without. LeChal solves orientation and direction problems, it's a good assistant to the cane."
The company claims that they have already received 25,000 advance orders for LeChals and they are estimating to sell an additional 100,000 pairs by April next year.
LeChal is also in talks with retailers in the United States and across India to supply the shoes ahead of the holiday season in December.
LeChal shoes are manufactured in China and will be released for sale in September. They retail at prices ranging between 60 pounds ($100) and 90 pounds ($150).