Indy 500 Champion Dan Wheldon Killed in Horrific 15-Car Accident (VIDEO)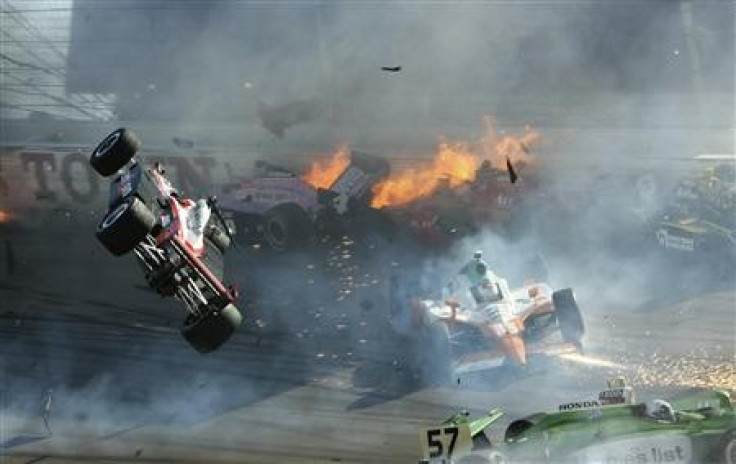 British driver Dan Wheldon was killed Sunday after a horrendous 15-car accident at the Las Vegas 300 IndyCar series finale.
The 33-year-old Dallara-Honda car driver died from "unsurvivable injuries" after his car was catapulted over another racer before hitting a fence on Lap 13 of the race.
Wheldon, from Emberton, Olney, was airlifted to University Medical Center in Las Vegas but died from his injuries two hours later.
"IndyCar is very sad to announce that Dan Wheldon has passed away from unsurvivable injuries," said IndyCar Series CEO Randy Bernard in a statement. "Our thoughts and prayers are with his family today," he added.
The remainder of the race was cancelled and the drivers later held an emotional five-lap tribute to Wheldon.
A popular figure in the paddock, Wheldon won the 2005 Indy Racing League Series and triumphed in the Indy 500 race that year and also in 2011.
High-speed crash
The horrific pile-up occurred on the 13th lap of the 300-mile race and involved almost half of the race's 34 participants.
Contact on Turn 2 sent cars flying through the air, crashing into each other and across the track, into the outside wall and catch fence.
"I've never seen such a mess in my entire career on the racetrack," Danica Patrick told the Telegraph.
Drivers had expressed concern about the high speeds being reached at Las Vegas, with many drivers reaching speeds of close to 225 miles per hour in practice.
"I could see within five laps people were starting to do crazy stuff," said Scottish driver Dario Franchitti, who won his third straight series title upon the race's cancellation.
"I love hard racing but that to me is not really what it's about. One small mistake from somebody.
"Right now I'm numb and speechless. One minute you're joking around in driver intros and the next he's gone."
Wheldon, who was racing for a first prize of $5m (£3.15m), was an early racing contemporary of Jenson Button before moving to America to gain further race experience.
He is survived by his wife Susie and their two young sons.
© Copyright IBTimes 2023. All rights reserved.