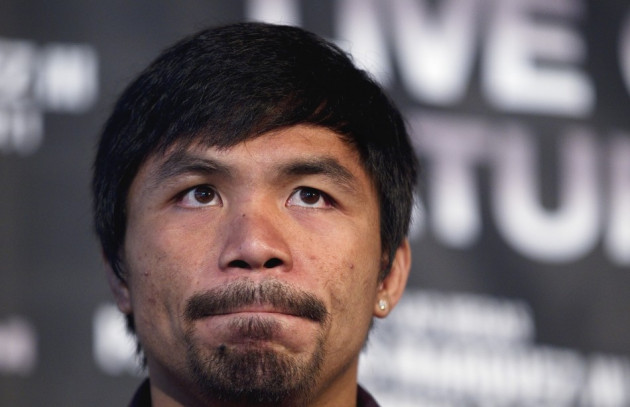 Former WBC welterweight Victor Ortiz will not file a protest over his controversial knockout loss against Floyd Mayweather Jr. Saturday.
Ortiz's manager, Rolando Arellano, told BoxingScene.com that they decided against appealing the loss after reviewing the video footage of the fight.
"I was very motivated to file an appeal ... but after reviewing the tape I decided not to. There was 2 seconds left on the clock when [referee Joe] Cortez said to box," Arellano said.
"While it was legal, that doesn't change the fact that it was a sucker punch," he added. "Victor apologized for the head-butt and in good sportsmanship, he apologized again.
"He wanted to let Floyd know he was sorry, and that is when he was hit with the sucker punch. The punch was legal, so there is nothing we can do about changing this fight."
With no prospect of a rematch on the horizon, WBC president Don Jose Sulaiman has called for Mayweather to fight Manny Pacquiao, and is determined to make sure the bout takes place.
Sulaiman was in Las Vegas to watch Mayweather defeat Ortiz Saturday.
"I will offer my independent friendship and authority to try to make the fight take place because both [Pacquiao and Mayweather] are without question the two greatest boxers in the last decade," Sulaiman told BoxingScene.com.
"I think the world wants the fight so if there is any way I can participate in a friendly way to put aside all differences for the good of boxing and for them to accept this would be fantastic."
Pacquiao, who watched the fight on television, defended the manner of Mayweather's victory but questioned the 34-year-old's integrity when he told BoxingScene.com:
"What Mayweather did was legal but it's not the action of a sportsman. He just took advantage of that moment. I think Ortiz was trying to be nice to Mayweather.
"[Mayweather] is still good but I think in the third and fourth round when Ortiz attacked, Mayweather got rattled. If Ortiz didn't get knocked out and the fight continued through seven or eight rounds, Mayweather could have been in trouble."
The prospect of a showdown between the pair appeared as distant as ever Tuesday, after Mayweather questioned Pacquiao's desire for the fight.
"I don't need Pacquiao," Mayweather said. "With or without Pacquiao, every time Floyd Mayweather goes out there, he's going to make over £70m.
"Where was Pacquiao from 1996 to 2001 when I was dominating the game? He never asked me [for a fight] when I was in my twenties or when I was in my teens."
Pacquiao, the five-division world champion, responded to the outspoken American by saying he doesn't need the fight either.
"Ako rin, I don't need him either," the Filipino said. "With us and shown that we accomplish in boxing, I also satisfied my career. Although we do not fight, I have no problem."