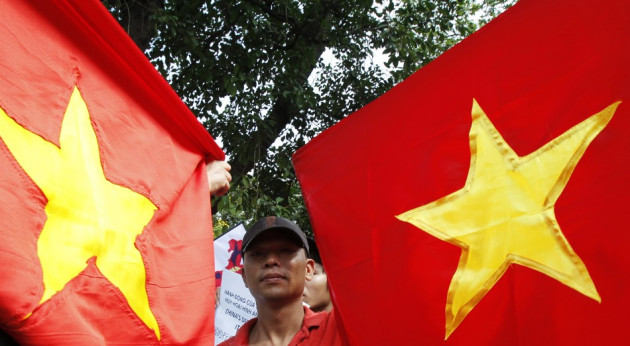 The Vietnamese authorities have accused three bloggers of fuelling "propaganda against the state" as the government tightens its grip on Internet freedoms.
The bloggers, who belong to the independent media organisation "Free Journalists Club", face up to twenty years if convicted under Vietnam's penal code. They reportedly posted articles criticising the government.
One of them, Nguyen Hoang Hai aka Dieu Cay, has been in prison since 2008 on tax fraud charges, according to Amnesty International who dubbed him a "prisoner of conscience".
"The persecution of Nguyen Hoang Hai is blatant and unjust. He is detained and faces trial solely for the peaceful exercise of his right to freedom of expression," said Donna Guest, Deputy Director of Amnesty International's Asia-Pacific Programme.
According to state-owned Thanh Nien newspaper, the bloggers posted 421 articles on the Independent Journalists' Club website from 2007 to 2010 and accused them of "distorting the truth, denigrating the party and state".
The US expressed concern over the cases, saying they are part of a "disturbing patterns" of increasing restriction around the Internet speech in Vietnam, according to the Wall Street Journal.
The development came as the Vietnamese Ministry of Information and Communications announced a bill, to be approved in June 2012, that will restrict Internet freedoms in the country by forcing users to use their real names instead of pseudonyms.
US-based pro-democracy movement Viet Tan condemned the decree. ""The language in this document is vague and ill-defined, leading to multiple interpretations and possible arbitrary implementation by authorities," a Viet Tan representative wrote on their website.
Along with outlawing pseudonyms, the new bill entitled "Decree on the Management, Provision, Use of Internet Services and Information Content Online" will force website to "be approved by authorities". Foreign companies such as Google and Facebook might be banned if they do not accomplish the censorship rules and cooperate with the Vietnamese government. They could also be forced to locate data centres in Vietnam and open offices there.
According to Reporters without Borders, the decree will also force bloggers to post their names and contact information and would held accountable for the content posted.
Vietnam is one of 12 countries labelled "Enemy of the Internet by the human rights organisation.