Villarreal 1-0 Liverpool: Jurgen Klopp questions Alberto Moreno's positioning after late winner at El Madrigal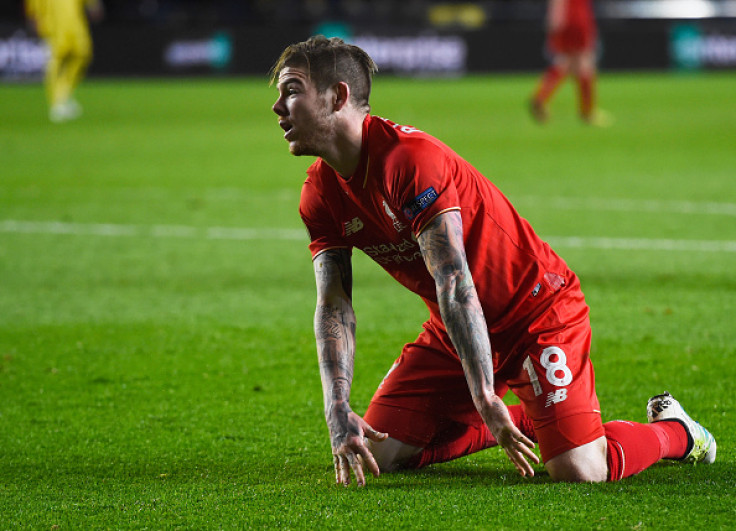 Jurgen Klopp has expressed disappointment at conceding a late goal during Liverpool's 1-0 loss to Villarreal in the first-leg of the Europa League semi-final on 28 April, at the el Madrigal Stadium. The Yellow Submarines scored the goal two minutes into injury time and the manager questioned the positioning of Alberto Moreno, who he believes was partly responsible for the Reds conceding.
The game was heading for a stalemate, which would have suited the Merseyside club as they are playing the second-leg at Anfield. A late counter attack, however, caught Liverpool out and they will now have an uphill task to qualify for the final in Basel on 18 May. The German manager believes that the last minute lapse was the only time his team made a defensive mistake and he clearly put most of the blame on the absent Spanish defender.
Klopp, however, is confident that his team can turn it around in the second leg, as he was expecting more problems in the away leg. The Reds will have to replicate the performance from the quarter-finals when they came from two goals down to beat the more fancied Borussia Dortmund 5-4 on aggregate.
"I'm not happy with the goal we conceded in the last second or something. Of course counter attacking in the 92nd minute makes not too much sense to be honest," the Reds manager said, as quoted by the Liverpool Echo.
"There is no explanation for this. They played one chip ball on the back of Kolo and Alberto [Moreno] is not there – I don't know where he was – so that was really fortuitous and that makes really no sense but that was the only big mistake we made in the game."
"It's 1-0, they have to come to Anfield and they know how strong we are. I thought we would have more problems here. We defended really well, we had our moments and played football. Now we know more and this race is not over. 95 minutes have been played but we'll play 97 at Anfield and that's a different game there," Klopp explained.
© Copyright IBTimes 2023. All rights reserved.