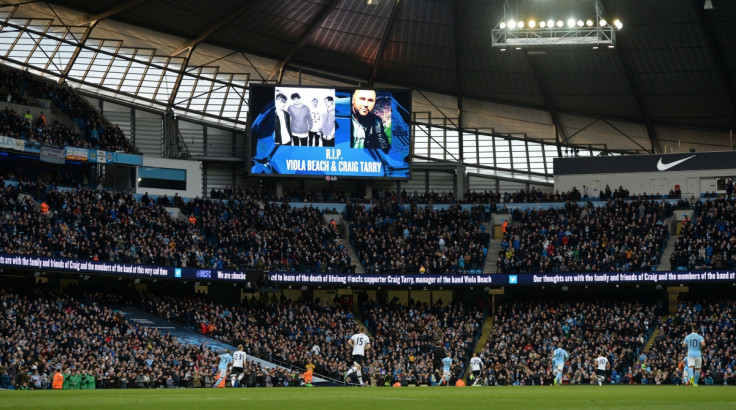 Tributes are being paid to the four members of Viola Beach and their manager who died when their vehicle crashed through a bridge barrier and plunged into a canal. The accident took place on 13 February in the Swedish capital of Stockholm.
Kris Leonard, River Reeves, Tomas Lowe and Jack Dakin died along with manager Craig Tarry, after their car plunged from a highway bridge into a canal. Local police said that the bodies of the victims had been recovered. Music stars have joined friends and family in paying tribute to the young singers who were tipped to be "the next big thing" in music.
Billy Bragg tweeted: "Tragic news about Viola Beach. Young band, first tour outside the UK. My thoughts are with their families and friends." The Coral's James Skelly said: "So sorry to hear about viola beach and Craig tarry's accident so sad, their families must be devastated."
Ross Jarman of The Cribs said his "heart goes out to the Viola Beach guys and their families". And James Walsh, lead singer of Starsailor, said: "Lives and music tragically cut short in their prime."
Blossoms, the band Viola Beach were due to perform with in Guildford, Surrey, on 13 February tweeted a picture of the group and said they were "absolutely devastated". Callum Bate, an engineer for Viola Beach, who were from Warrington in Cheshire, tweeted: "The boys from Viola Beach were the most hardworking and honest bunch of lads. So honoured to work with them for the past months. RIP boys X."
Photographer and friend Georgia Park broke down as she told Sky News about the talented young singers. "I worked with them on the album...I... sorry, sorry about the words..." she said. "They loved every second they played. Everyone knew they were going to make it big. They were going to be the next big thing. They were such a talented, talented group."
The family of Viola Beach bass player Tomas Lowe issued a statement describing the grief of losing him. The statement read: "We have been devastated by the death of Tomas and the other members of Viola Beach, Kris, Jack, River and Craig. Tomas was the best son, brother, uncle and friend you could ever wish for and he will be missed dearly.
"Tomas had a passion for music and for life and he was in his words "living the dream" when his life was tragically cut short. He will be missed by all who knew and loved him. The family now wish to be left in peace to grieve."

The family of Viola Beach band member Kristian Leonard have said that "words cannot express the sadness we feel" while the family of guitarist River Reeves have said they are "heartbroken".
"We are all heartbroken following River's tragic death and the circumstances which have seen him lose his life alongside the band-mates and manager he adored and loved being with," the statement said. " Viola Beach were on such an exciting journey and River could not have been happier. He would have loved to have stuck around for the party."
The family of Viola Beach manager Craig Tarry have said they have been left "devastated" after he was also killed. " Craig and the band were driving in Sweden when the car they were in plunged more than 80 feet from a bridge into a canal.
United Talent agency, which represents the band, said all money from the Viola Beach's second and last single, "Boys That Sing", will be donated to the families of the band members and their manager.
Hundreds of friends and fans mourned the band on their official Facebook page of the band. BBC Radio 1 will host a tribute show for the band. A special session, which was recorded live from the radio station's Maida Vale studios in November last year, will be aired on 15 February.
Swedish police have said they are still investigating the incident which killed all five passengers.