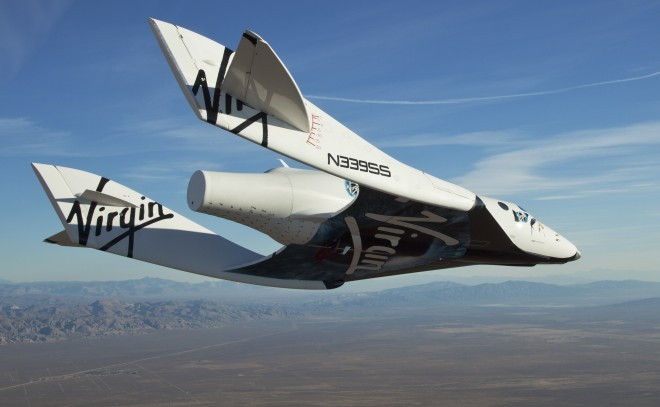 Sir Richard Branson says the base for his commercial spacecraft will be called the 'Virgin Galactic Gateway to Space'.
More than 800 guests witnessed the commercial space crafts WhiteKnightTwo and SpaceShipTwo fly over southern New Mexico Monday during the dedication ceremonies of Virgin Galactic's new home.
The Gateway to Space, designed by British architect Sir Norman Foster, will house spacecraft that are planned to take paying customers into space within the next few years.
"Today is another history-making day for Virgin Galactic," Branson said. "We are here with a group of incredible people who are helping us lead the way in creating one of the most important new industrial sectors of the 21st century.
"We've never wavered in our commitment to the monumental task of pioneering safe, affordable and clean access to space, or to demonstrate that we mean business at each step along the way."
Branson and his children, Sam and Holly - who will be the first commercial passengers on SpaceShipTwo - officially named the world's first purpose-built spaceline terminal while rappelling from the roof of the new building.
The Virgin Galactic Gateway to Space will house up to two WhiteKnightTwo and five SpaceShipTwo vehicles, as well as becoming the home for Virgin's astronaut preparation and celebration facilities, a mission control centre and a friends and family area.
The terminal is 120,000 square feet in size, was designed by the UK-based Foster + Partners and was constructed from local materials using regional building techniques.
With regard to the future of Virgin Galactic, CEO and President George Whitesides said: "Flight testing by prime contractor Scaled Composites is progressing very well, with 30 SpaceShipTwo flights and 74 WhitKnightTwo flights to date.
"We are also recruiting aggressively and assembling a highly talented and accomplished workforce focused on safe commercial operations led by Vice President of Operations Mike Moses, who will run our effort at the spaceport."
More than 150 Virgin Galactic customers from 21 countries were present at the event, and a total of 450 future astronauts have signed on to take a trip into space.