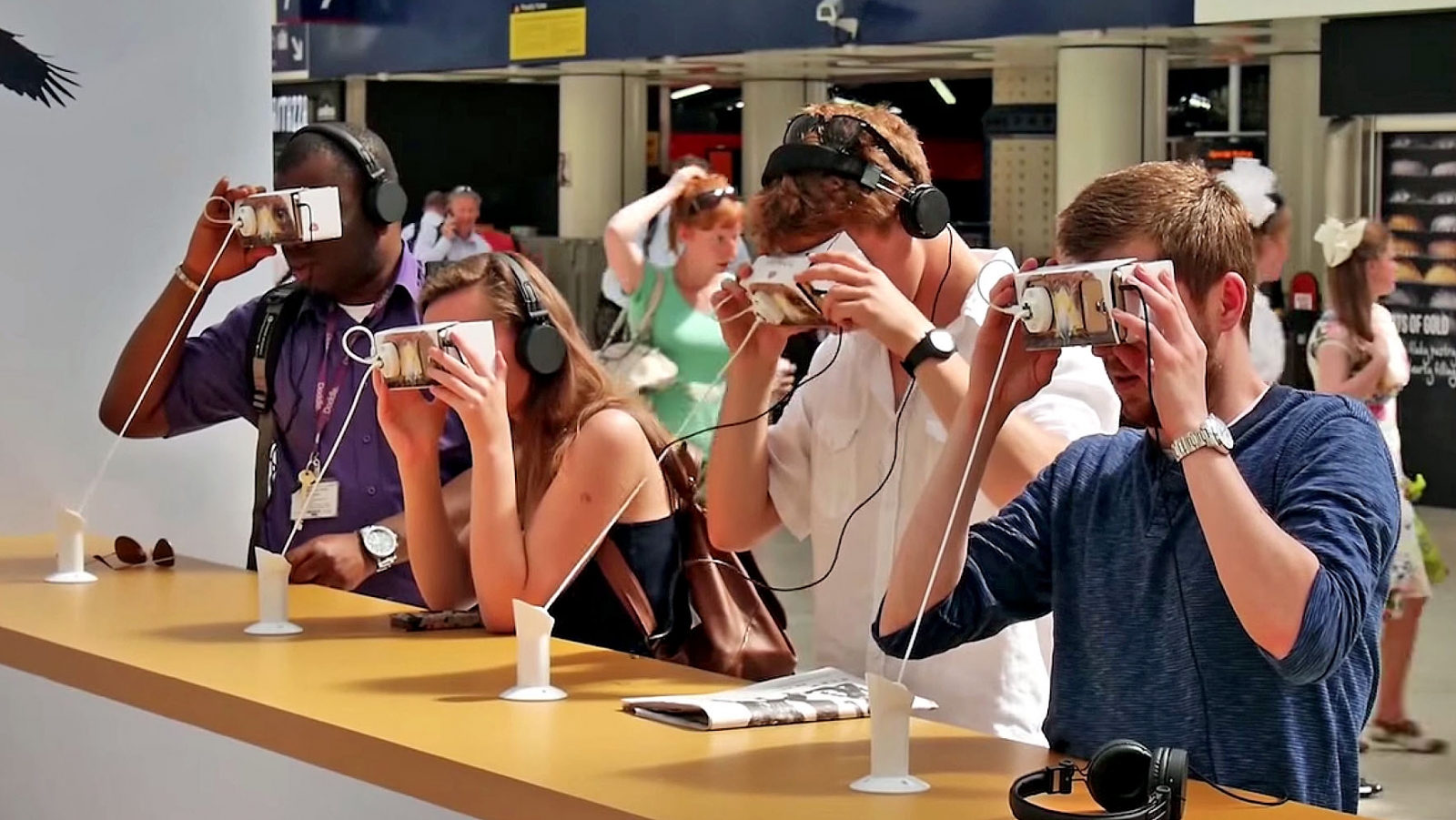 Virtual reality is a next-generation technology that the human race still hasn't quite adopted ubiquitously, having its roots in the mid-1990s.
Yet thanks to recent publicity and technological advancements, many people are now interested in the idea of virtual reality, and the upcoming headsets Oculus Rift and the Samsung Gear VR. But if you ask them what these are for, ten to one they will tell you that they're for fun – a cool gadget designed for gamers and tech heads.
Then there's YouTube, which today announced that it will now support 360-degree video advertisements on the Google Chrome web browser, as well as iOS and Android devices. But other than advertising, what can virtual reality be used for in the real world?
Join us as we take a look at five up and coming applications of virtual reality:
---
Virtual Reality in Real Estate
---
Immersion is a virtual reality firm based in Poland that focuses on applying virtual reality to businesses – in particular real estate.
Working with some of the biggest real estate developers in Europe, the firm is taking traditional gaming technology, such as the Unreal 4 gaming engine, and using it to transform 2D architectural files into a three-dimensional 360-degree tours of buildings.
"We are using gaming technology as it is far more advanced than architecture software," Immersion CEO Piotr Baczyński told IBTimes UK.
"We can change the design of an apartment, move furniture around, change the colour of the walls, even change the lighting to show how much light the building gets at different times of the day from different sides, and we can do it while the user is wearing the headset, inside the experience.
"You can visit the toilets or look out the window and see the landscape for several kilometres around the building, which impressed Samsung executives looking to buy a building in Warsaw from one of our clients."
Baczyński said that after viewing their building in virtual reality, many architects and developers decide to change their buildings during the planning phase as they realise the building's flaws from seeing the full scale of their project.
Of course, creating these apps isn't cheap and prices start from €20,000, but they can be run on any computer with a headset.
---
Virtual Reality in Automobiles
---
Hamilton+Kidd is a UK-based digital creative agency that traditionally worked with animation and computer graphics, but recently has seen a lot of demand for virtual reality from its clients, in particular car manufacturers.
"The main things clients are asking for are experiences, as ultimately they have to sell a product. It's a great way to connect with consumers, really engage and get someone immersed in the product, rather than them watching an ad on TV and it's only 10% of their attention," Hamilton+Kidd's director of VR Ed Barton told IBTimes UK.
"Traditionally, a lot of people just want to stick a camera on cars. There's F1 video that's quite popular, but we want to do more than that. We want to augment that reality, have graphics, show what an engine is doing under the hood and show the speed you're going at on the tracks."
To that end, the agency has created experiences with Rolls Royce, BMW, Nissan, Nismo, and recently did an animated tour inside the Bloodhound SSC 1,000mph supersonic car. The firm uses After Effects and Maya for animation, as well as the Unity game engine for cross-platform delivery.
"There's a huge gap between wanting to get a car, and being truly impassioned by a brand or product. VR test drives let you do things you couldn't do in a normal test drive, like go round the track at 200 miles per hour, or showing breaking distances," stressed Barton.
"I would expect VR to be a core part of motoring events and car showrooms certainly in the next 12 months. The brands that really capture people, are the ones using VR not just for hype value, but for creative engaging ways to use the medium."
---
Virtual Reality in Experiential Marketing
---
Advertising and marketing agencies have discovered a new way to reach out to their customers – create a virtual reality installation open to the public which sees tech fans queue up for hours to have a go, and it's all come about because consumers have become greatly interested in the technology.
"Say a year ago, our clients were looking to be the first to give their audiences VR experiences. So it was one-upmanship with competitors, but now, clients want good buzz marketing experiences and even to create new products," Henry Cowling, creative director of innovative production studio Unit9 tells IBTimes UK.
Cowling expects VR experiences to become the new norm for how advertisers will reach consumers, and that their content will be accessed by millions of people on both devices and PCs. His firm also uses the Unreal 4 and Unity gaming engines.
"With William Hill, we were trying to create an actual product – a VR experience designed to bring horse racing into the 21<sup>st century, as the betting industry has been turned on its head a number of times in recent years," he says.
"In future users will switch seamlessly to be completely immersed in a virtual world. I think we will look back on this as a weird period where we used computer interfaces that were only 2D."
---
Virtual Reality in Home Entertainment
---
Of course virtual reality will be used in home entertainment, but rather than playing games that cause people to lose track of their bodies and their lives, technologists believe that VR will see big hitters in app experiences sold on the conventional mobile app stores we have today.
"A film producer wouldn't stop making traditional TV shows or films, but this is a whole new medium with a new set of consumers that is more visceral and powerful than anything we've had before," Solomon Rogers, CEO of UK-based VR, digital and physical production agency Rewind tells IBTimes UK.
"So I can put you on Mars, next to the Rover, I can stand you next to Bjork on an Icelandic beach. When you put on the headset, instead of saying, 'Oh this is a nicely shot movie,' you instantly feel that you're there."
Rogers points out that making content to put in app experiences is much cheaper and simpler than filming an entire show, and that VR apps could become accompaniment to large film franchises.
"So for example with Disney's Frozen, you have the film, the books, the soft toys, but then you could have the VR app experience, which could see you throwing snowballs at characters from the film," he says.
Rogers says his firm is currently working on several interactive experience concepts. Consumers could either be "Ghosts" in the app experience where they have no influence but watch the characters or actors interact around them, or they could be an "Avatar" and reach out to touch characters and have them touch the user in return.
In fact, the consumer could even have the ability to change the storyline around them.
---
Virtual Reality in Gaming Today
---
VR will probably make for some brilliantly creative interactive games, such as the zany Oculus Rift game Keep Talking and Nobody Explodes that sees players race against time to defuse a bomb, but these might take a while to catch on.
However, if you like the way games are made today, startup Trinus has found a way to help you make PC video games three dimensional right now.
The Trinus VR Android smartphone app, when put together with Google Cardboard, can offer users a virtual reality 360-degree experience paying almost any PC game.
Launched in August 2014, the app so far has over 75,000 downloads of its free version and 8,000 downloads of the paid version, and users most enjoy playing PC games like The Elder Scrolls V: Skyrim, Grand Theft Auto 5, Minecraft and Elite: Dangerous on the app.
"The idea of being able to look around in-game is an amazing experience. If you play on the monitor with a mouse, you can see your own room so it's not immersive. When you put on the headset and you look around, it's a completely different experience," Trinus VR creator Xavier Selva tells IBTimes UK.
Selva sees apps that can turn 2D games into virtual reality experiences as being popular with people who like social games such as Second Life and Utherverse, who wouldn't want to invest in really expensive top of the range VR headset hardware.