Microsoft Hololens: Company reveals what it feels like to use augmented reality helmet
Microsoft has released a video showing for the first time what it will actually feel like to wear the corporation's HoloLens augmented reality headset.
In the two-and-a-half minute video published on YouTube, the US tech giant talks about how through its partnership with Case Western Reserve University (CWRU) in Ohio it is transforming the way human anatomy is taught to prospective doctors.
"Microsoft has created what is the most fascinating and compelling new piece of technology to emerge in many years and they have already got a lot of it right.
"We will have to wait to find out but for now what I can say is that Microsoft's HoloLens has the potential to change the way we use computers forever."
IBTimes UK technology editor David Gilbert's first impressions of HoloLens
"We're working with Case Western Reserve University to create this paradigm shift so that we can leap together with students into the future of education. We believe that HoloLens is going to enable us to do that," claims Lorraine Bardeen, director of next gen experiences at Microsoft.
The video shows medical students wearing HoloLens looking at various layers of the human body, such as bones, muscles and circulatory systems, as well as a 3D model of a functioning heart.
"You can take any anatomical part and show any of it. You can move it around, you can make it kind of translucent so you can see through the outside and that really helped me understand how cardiac anatomy worked," says Satyam Ghodasara, a medical student at the university.
"I had a moment where I found the aortic valve and it was actually the first time i'd seen the valve in relation to all the other anatomical structures. It was a way of seeing it that you couldn't do with an actual heart, he added.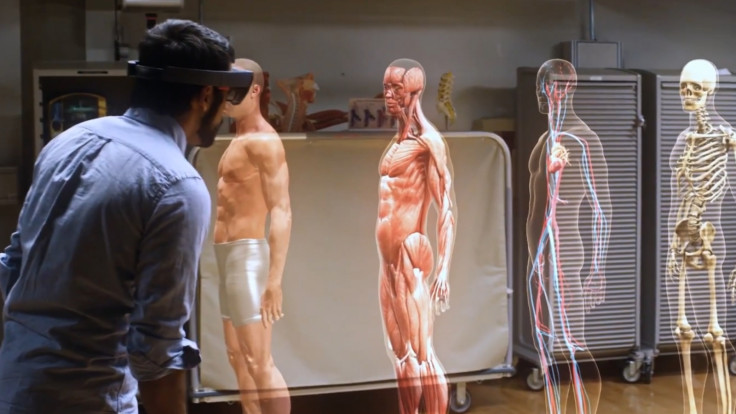 Mark Griswold, a professor of radiology at CWRU, believes the technology will radically change how medicine will be taught in universities.
"I think this will improve students' confidence in learning anatomy dramatically. With HoloLens you could imagine a class standing around a model, almost like a tour group in a musuem, where they're all interacting completely naturally," he says.
Limited field of vision
As well as the impressive shots of students interacting with HoloLens, the video also shows for the first time what is is actually like to wear the headset. As we previously reported, the few first-person shots in the video reveal that the field of vision when wearing the headset is a lot more limited than what some of Microsoft's simulations suggest.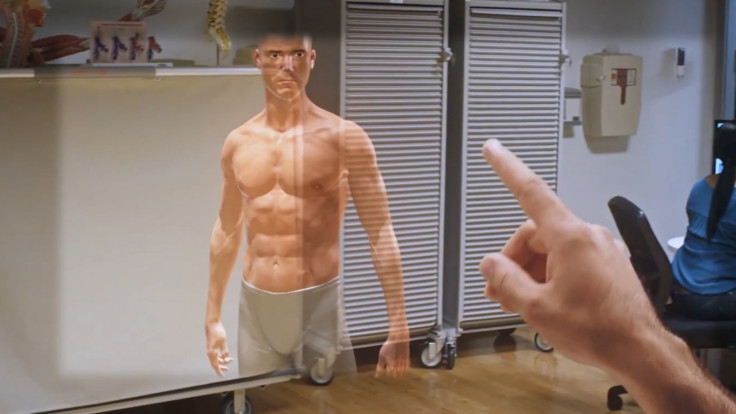 As the screenshot above shows, while wearing HoloLens the holographic image appears within a small window rather than taking up the entire lens in front of your eyes.
Microsoft wowed audiences at gaming expo E3 in June when it showed what it would be like to play popular video game Minecraft using HoloLens. This new video now reveals the company's plans for the technology beyond gaming as they seek to become a major player in holographic computing.
© Copyright IBTimes 2023. All rights reserved.