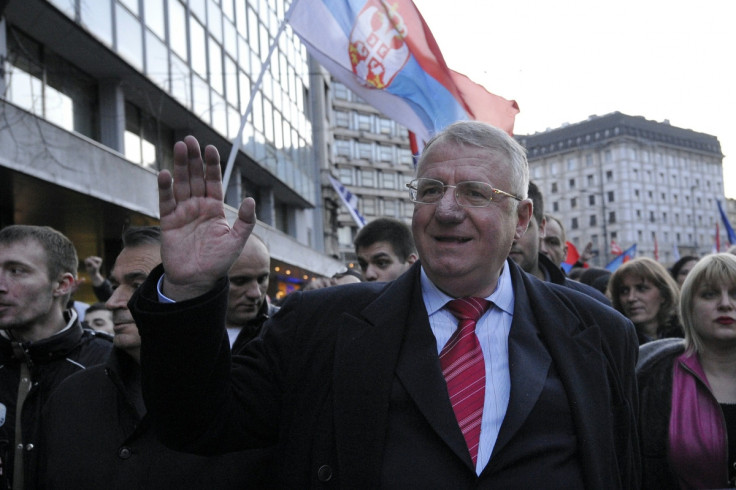 Serbian ultra-nationalist leader Vojislav Seselj has been found not guilty of committing war crimes and crimes against humanity during the Balkan wars in the 1990s.
Seselj had been accused of stoking ethnic tensions with his nationalist rhetoric ahead of the conflict, which resulted in the collapse of federal Yugoslavia and the death of 130,000 people. However the tribunal found that there was insufficient evidence that Seselj was directly involved in war crimes and crimes against humanity committed during the conflict.
"With this acquittal on all the nine counts of the indictment the arrest warrant issued by the appeals chamber is rendered moot," presiding judge Jean-Claude Antonetti said on Thursday. "Vojislav Seselj is now a free man."
Seselj was not present in court to hear the verdict being delivered, having been given leave to return to Belgrade after being diagnosed with cancer in 2014. An iconic figure among Serbian ultranationalists, Seselj has campaigned for his Serbian Radical Party following his release, recently burning EU and Nato flags at a Belgrade rally.
The party is expected to win parliamentary seats in the 24 April elections.
Seselj was close ally of late Serbian President Slobodan Milosevic, who died in 2006 awaiting the verdict of his Hague trial for atrocities committed during the Bosnian conflict. Seselj surrendered to the International Criminal Tribunal for the former Yugoslavia voluntarily in 2003, and went on hunger strike when the tribunal attempted to appoint a defence lawyer against his wishes.
Prosecutors had charged Seselj, 61, with crimes including persecution, murder and torture, and demanded a 28-year sentence. The prosecution is free to appeal the verdict.
Seselj's verdict comes alsmost a week after former Republika Srpska president Radovan Karadzic was found guilty of war crimes and crimes against humanity by the Hague tribunal.