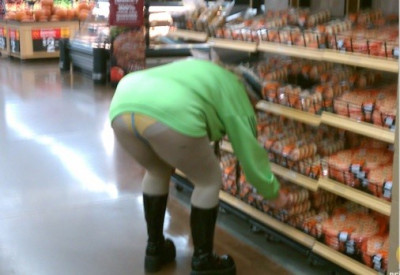 It would seem that these days' Wal-Mart is not just for shopping anymore, because more often than not you can be guaranteed that in a Wal-Mart somewhere, something weird is happening.
Maybe today in a Wal-Mart new you, there will be a man dressed as a cow stealing milk from aisle six or a clearly obese shopper strolling through the frozen section with nothing but their underwear on or even a wannabe rapper called Mr. Ghetto making a sexually suggestive music video complete with scantily clad woman shaking 'what their mama gave them' near the fruit and veg.
It's all possible at the 24-hour US retail chain which has now become famous for its wacky and sometimes bizarre goings on.
This week alone a Tulsa woman was arrested for trying to cook Methamphetamine inside the 81st and Lewis Wal-Mart store because she was 'too broke to buy it'.
While another Wal-Mart store in South Carolina stayed open throughout the crime and the investigation of a murder despite there being "blood everywhere".
Here we have a look at just some of the strange things happening in Wal-Marts across America.