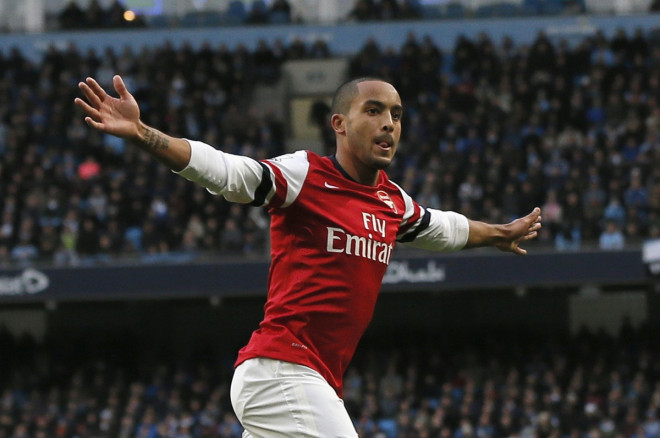 Theo Walcott believes his injury setback will help him come back as an improved player next season for Arsenal.
The England international was stretchered out of the ground during the 2-0 victory in the north London derby against Tottenham Hotspur in the FA Cup clash, earlier in the year.
The winger ruptured his anterior cruciate ligament in his left knee which ruled him out for the rest of the season as well as for Roy Hodgson's side during the World Cup in Brazil in the summer. Nevertheless, Walcott is upbeat and will not rush into making a comeback for the Gunners next season until his recovery is complete.
"There are always people worse off than you and there's no point being negative about it. You want to be positive coming in every day, because the time will go quicker. I know this will make me into a better person, a stronger person. I don't want to look at [what happens in] six months time, I want to look at 10 to 15 years when I'm still playing," Walcott told Arsenal's official website.
"I don't want to push the injury [now] and not be 100 per cent and then cause other injuries. My main concern is to take things week by week and try not to put a timespan on it."
Walcott, who is known for his ability to race past opponents with his blistering pace, also gave an update about his rehabilitation while highlighting the funny side of his current injury.
"I came out of the brace on Tuesday and the crutches are gone, so I am starting to get the walking movement back now. It is amazing because you tend to forget how to walk, it is a bit crazy! It is the only time people will be able to beat me for walking or running!" the 24-year-old added.
"It was a nice moment [to come out of the brace]. When you go to the consultant you don't know what to expect as this is all new to me, but it was great news. The last two days have been good days, I have been walking a bit easier. It's nearly there now," he concluded.
Meanwhile, Arsene Wenger's side face Stoke City in the weekend Premier League fixture at the Britannia Stadium on Saturday. The north Londoners sit second in the table with 59 points, one behind leaders Chelsea after 27 matches.