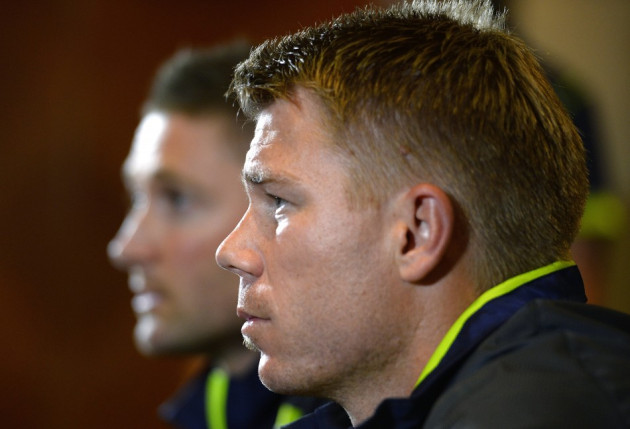 Former England captain Mike Gatting has condemned Australia batsman David Warner's attack on Joe Root but doesn't want the incident to overshadow the start of next month's Ashes series.
Warner was banned for the remainder of the ICC Champions Trophy, Australia's two Ashes warm-up matches against Somerset and Worcestershire and fined £7,000 having attacked Root, 22, in a Birmingham bar after England beat Australia by 48 runs at Edgbaston.
Both the England and Wales Cricket Board, who have exonerated Root from blame, and Cricket Australia have since held encouraging reconciliation discussions, but the episode has nevertheless dominated the build-up to back-to-back Ashes series, the first test of which begins at Trent Bridge on 10 July.
And Gatting, himself no stranger to socialising with rival Australian players during his 17-year international career, is delighted both teams have resolved their issues.
"You have to be so careful in this day and age, we saw with the England rugby players, when you go in bars there are cameras everywhere," said Gatting.
"When myself and Beefy [Ian Botham] did it, it was one of those things when you never really stepped over that line, you had a drink with them and it never really got to that ever.
"We got to know the guys [Australian players] really well and that's probably one of the sad things they don't do as much these days. That sort of things would never have happened in our day.
"This sort of stuff is really what you don't want and it's something that I'm really glad the teams have sorted out and it's a good way to start an Ashes series when people are now talking and are chatting about the right things.
"I was young once and I haven't seen someone [Joe Root] with this amount of talent for a long time," the 56 year old, speaking at the Nolan Partners Sport Industry Breakfast Club, added. "We've had some talented players over the years and this young man seems to have a great head on his shoulders."
Warner has since apologised for the attack, which occurred in the early hours of the morning of Sunday 9 June while players from both England and Australia were out separately in a Walkabout bar in Birmingham.
Cricket Australia chief executive James Sutherland labelled the incident "despicable" upon Warner being handed a substantial ban which all-but rules him out of the first two back-to-back Ashes test matches at Trent Bridge and Lord's.
ECB chief executive David Collier has confirmed talks have been on-going with their Australia counterparts, and the affair has only worked to strengthen relationships ahead of the feast of Ashes cricket ahead.
"The first thing to say is thanks to Australia for giving us this massive publicity of the Ashes series," Collier joked. "Seriously though we don't condone that type of incident, I think Cricket Australia have handled it exceptionally well. I think that is all now past us and clearly there are lessons to be learned and have been learned.
"There are some very good things that did come out of it in terms of the relationship between the two sides.
"Although the headline was different I can tell you behind the scenes there was some really good discussions in terms of positive relationships and 'this is not how we want the series to go'."