Jose Mourinho cut a rather subdued figure as he walked across the Wembley pitch on Sunday afternoon (26 February) following his side's EFL Cup final triumph. With the champagne corks popping around him, the Manchester United manager was wise to the fact that his side's 3-2 victory over Southampton had come thanks to a huge slice of luck, with many of his players underwhelming in what was their biggest game of the season to date.
This isn't anything new for Mourinho. Porto's 2004 Champions League triumph still stands as perhaps the greatest upset the competition has seen in its modern format. Even then, as a fresh-faced 40 year-old, he was the most restrained man on the pitch during the trophy presentation.
Speaking to Sky Sports after this weekend's match, Mourinho's sombre mood continued. "I want to give Southampton the credit they deserve. We have the cup but we should be now playing extra-time."
The United boss was referring to Manolo Gabbiadini's disallowed goal in the opening minutes of the contest, a call that has been universally dismissed as the wrong one. Two moments of brilliance from Zlatan Ibrahimovic either side of Jesse Lingard's effort won the game for United on an afternoon where standout performances from those in solid red were rare.
"Zlatan won the game for us," Mourinho offered. "He was outstanding. I can see a couple of performances at a similar level, for example Paul Pogba, but he was outstanding."
He eventually admitted he was "happy" to have won his first trophy with the club that also saw him equal Sir Alex Ferguson's and Brian Clough's haul of four League Cup titles. But there were shades of the club's greatest manager of all time in Mourinho's reaction to the win, with it clear that the performance did not measure up to his expectations.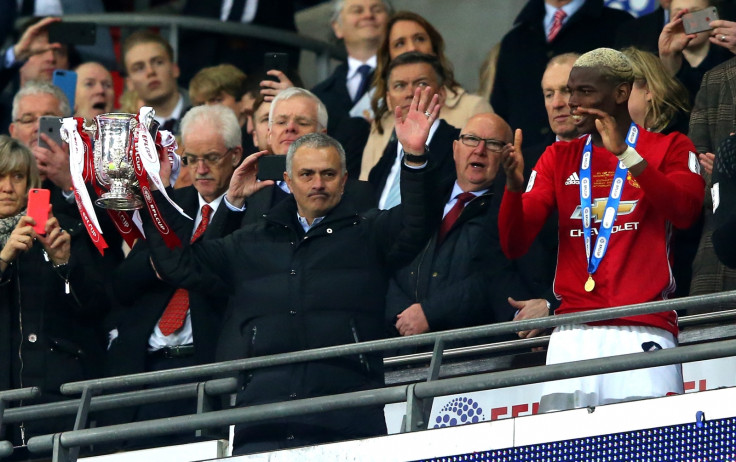 It drew parallels with one famous cup reaction from the club's most successful manager. Then just Alex Ferguson, the Scot was left unsatisfied with the performance of his Aberdeen side that had just beaten Rangers to win the 1983 Scottish Cup. "We're the luckiest team in the world," he said. "We were a disgrace of a performance.
"[Willie] Miller and [Alex] McLeish won the cup for Aberdeen. Miller and McLeish played Rangers themselves. [The rest of the team] were a disgrace of a performance.
"And I'm not caring, winning cups doesn't matter. Our standards have been set long ago and we're not going to accept that from any Aberdeen team. No way should we take any glory from that."
Ferguson's words both then and now were judged to have been perhaps a little harsh – particularly given that side had 10 days earlier beaten Real Madrid to win the European Cup Winners' Cup. But it was a measure of the colossal standards Ferguson had set for himself and the club.
Mourinho wasn't quite as damming in his assessment. But there was a sense the manner of yesterday's win acted as a reminder of how much work remains to be done, with now not the time for he or his team to relax. In the same way Ferguson credited Miller and McLeish for that cup win, Mourinho did likewise with Ibrahimovic. There was no need for the United manager to lavish praise on his side yesterday. He made sure he didn't.
While some fans will have been a bit bemused with Mourinho's reaction, it could bode rather well for the long-term.