A man has been arrested in China after uploading video footage that clearly shows it came from a DJI Mavic Pro drone that was hovering in the flight path of a passenger jet on landing approach.
The 9-second-long video was posted on popular Chinese social network Weibo at 6.30pm (10.30am GMT) on Sunday 15 January, showing a passenger jet approaching an airport in Hangzhou city in east China's Zhejiang Province.
The video clearly shows a Capital Airlines plane passing close to the drone, which could only have been captured at that height by a unmanned aerial vehicle (UAV), and at the end of the video, a watermark comes up advertising the DJI Mavic Pro drone. Capital Airlines has strongly condemned the actions of the drone user.
The Weibo post with the video went viral in China and on Monday 16 January, Zhejiang police verified that the video was real and that they had found and arrested the owner of the drone on charges of endangering public safety, according to state media news service China.org.cn.
Chinese police found drone owner in less than 24 hours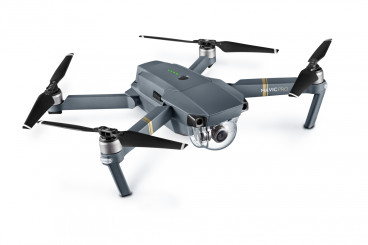 As the internet is closely regulated in China, the government requires all internet users to sign up for all social media and other web services using their real name and address, which makes it easy to identify and locate people if they are suspected of breaking the law.
All DJI drones come with the DJI Go app, which has a geofencing system called GEO that is meant to comprehensively prevent users from taking off next to an airport anywhere in the world. Indeed, if users (usually businesses) feel that they should have permission to fly in restricted zones, they have to get their accounts verified by DJI and prove that they have been given an exemption by authorities in their country.
This has led to a huge amount of additional paperwork for the consumer drone manufacturer, to the extent that in a June 2016 interview with IBTimes UK, DJI said it was calling for Europe to work together to build a centralised database of temporary flight restrictions to improve UAV safety.
However, it seems that the drone user found a way around the system and was able to fly the drone up to a significant height in Zhejiang city close to the airport, which should have been in the restricted zone.
"Recent footage from China claims to depict an unmanned aerial flight close to a commercial airliner. As the world leader in easy-to-fly aerial photography tools, we strongly condemn the use of this technology in areas that conflict with the safe and normal operations of manned air traffic. We have been asked by the relevant authorities to assist in the investigation of this incident and will do so within the scope of our standard terms of use," DJI told IBTimes UK.
"DJI and aviation regulators around the world recognise that unmanned aerial vehicles are an important technological advance and can safely share the skies with traditional aircraft. DJI is the industry leader in technological and educational systems to help our users fly safely, from the flight simulators and beginner modes in our apps, to the system that returns drones to their launch points if they lose contact with controllers or run low on power, to our satellite-based GEO geofencing system and mandatory no-flight zones helping protect sensitive areas...nevertheless, our technology is meant as an advisory resource. The safe and legal use of aerial technology is ultimately the responsibility of the operator.
"DJI will continue working together with regulators to help our users understand the requirements for safe use of aerial technology. We also continue to support governments in creating a regulatory framework that promotes safe skies that are also open to the innovative potential of unmanned systems."