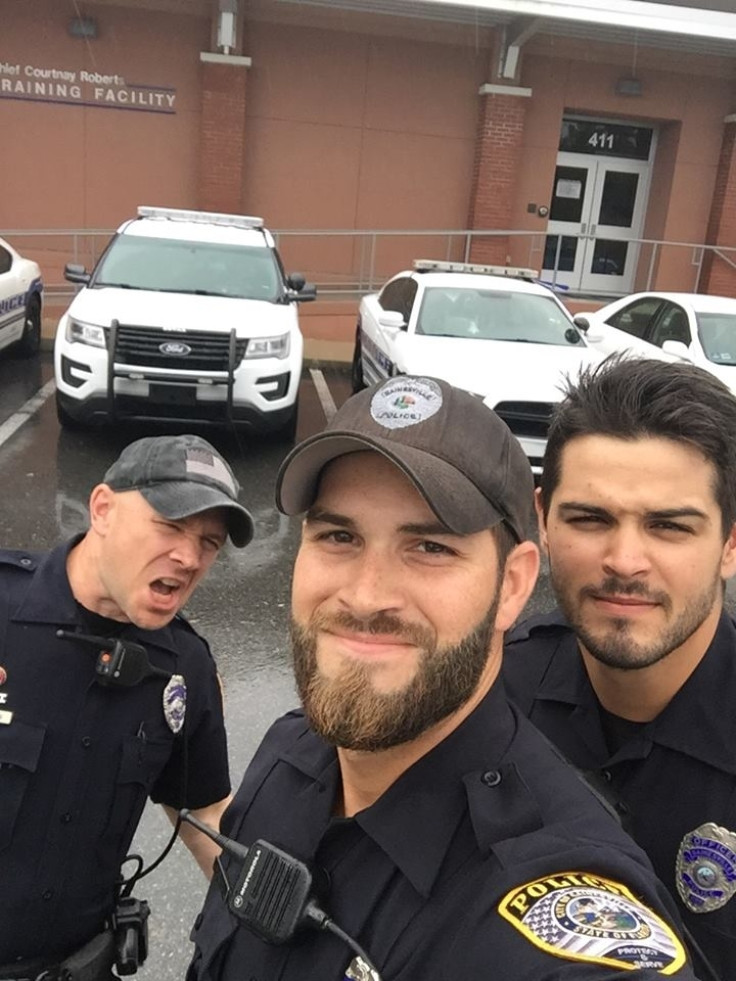 It's raining 'hot cop' photos on the internet and it's all thanks to the Gainesville Police Department, whose night crew's selfie in the middle of Hurricane Irma went viral on the internet. Women drooled over the images of the police officer trio, posting hilarious comments, and soon other police departments got in on the act as well by sharing hunky photographs of their crews.
"Officers Raulerson, Craig, Gloeckner & Hughes responded to help our friends at the North Port Police Department & North Port Fire Department this afternoon with rescues due to rising floodwaters from Hurricane Irma. Gainesville Police Department has nothing on us," the Sarasota Police Department cheekily posted on its Facebook page as it shared the image of four of its officers.
The Knoxville Police Department also jumped on the bandwagon to "challenge" their Gainesville counterparts by sharing a photo of four of their own hunky police officers, along with a German Shepherd police dog.
"There's no denying the Gainesville Police Department has set the internet on fire with a picture of three of their officers as they are going on patrol. Thousands upon thousands of women have oh – let's just say – provided their "opinion" on the officers' appearance," the post read.
The Knoxville authorities want to use the picture for a noble cause and urged people to donate money for those who were affected by the deadly hurricane.
"OK ladies, here's your chance to make a difference. The Knoxville Police Department would like to challenge the Gainesville Police Department and all the women who are inclined to leave a "comment" to take it one step further," the post added.
"If you leave a comment, then make a small donation in the name of either the Gainesville PD or Knoxville PD to your favourite charity to help Hurricane Irma victims in Florida."
In case you missed it, here's the Gainesville Police Department post again: