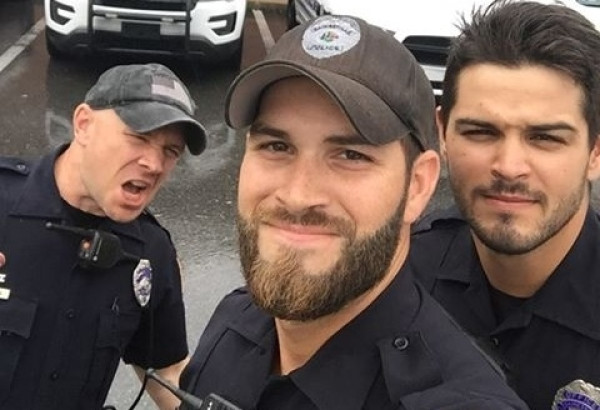 The internet has fallen head over heels in love with officers from the Gainesville Police Department in Florida after three male officers shared a "super hot" selfie on Facebook. On Sunday (10 September), the officers captured and posted a selfie before their night shift in the aftermath of the devastating Hurricane Irma that ripped through the state over the weekend.
"Officers Nordman, Hamill and Rengering... part of the night crew getting ready to do some work," the caption read.
The simple post, however, has since gone viral with thousands of women commenting on the photo that has garnered over 333,000 "likes" and shared more than 196,000 times.
"I can't believe how many women are objectifying these poor, fine, young, strong, handsome, brave, sexy, delicious, virile, ovulation-inducing, mouth-watering, beefy..... I can't remember where I was going with this ...," one comment read.
One Facebook user wrote: "I feel safer just looking at this picture." A second added: "My ovaries don't!"
"Uhm, a court date is still a 'date' right?!" one person commented while another wrote: "This pic is exactly why your grandmother always told you to wear clean underwear in case you're in an accident."
"Do a calender, add puppies and I'm pretty sure we can rebuild Texas and Florida," one user suggested.
The department also responded to the slew of swooning remarks saying, "We are dying with the comments. You've actually made our chief blush with some of them." They also noted that two of the officers, Nordman and Hamill are married, adding that their wives "enjoyed knowing how millions of women are going crazy over their husbands."
"We can confirm that Officer Rengering (far right with the amazing hair) IS SINGLE," the department responded in a Facebook comment. "On another note, Officer Rengering is being placed into Cougar Prey Protective Care, similar to the witness protection program for his safety. Please do not call 9-1-1 and request this group respond to your 'incident'."
However, they did announce that they would release a calendar soon to raise funds towards Hurricane Irma recovery efforts in Florida. The department also posted photos of some more officers that have also been flooded with squeal-laden comments.
One woman said she was "convinced this police department is fake and this is actually an ad for Magic Mike 3."