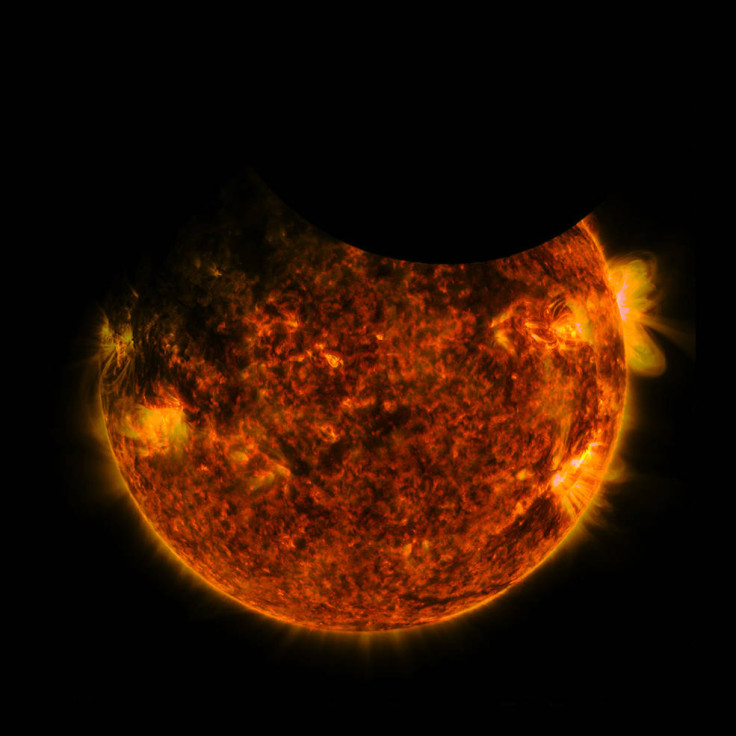 Nasa's Solar Dynamics Observatory (SDO) captured a rare double eclipse which showed the Earth and the Moon aligned together, blocking out the Sun. It is not uncommon for the SDO, which "keeps a constant eye on the Sun", to have its line of sight blocked by the Earth, especially during the semi-annual eclipse seasons. However, this time, the Earth's eclipse of the Sun coincided with the Moon's orbital journey across the Sun.
Given its geosynchronous orbit, the SDO was able to capture the Earth completely eclipsing the Sun from its line of view, at the same time that the Moon entered its phase in the orbit across the face of the Sun, allowing the SDO to "catch the final stages of the lunar transit".
"In the SDO data, you can tell Earth and the Moon's shadows apart by their edges: Earth's is fuzzy, while the moon's is sharp and distinct. This is because Earth's atmosphere absorbs some of the Sun's light, creating an ill-defined edge. On the other hand, the Moon has no atmosphere, producing a crisp horizon," Nasa spokesperson Lina Tran said in a press release.
According to Nasa, this distinct "geometry" of the Earth, the Moon and the Sun also resulted in a simultaneously visible eclipse from southern Africa. The eclipse, also known as the "ring of fire" or annular eclipse is similar to a complete solar eclipse. However, the ring of fire eclipse occurs when the Moon is at a point in its orbit, farther away from the Earth than average.
The name of the eclipse comes from the overall appearance of the Sun during the phenomenon. The additional distance from the Earth causes the Moon's apparent size to be diminished, which results in the Sun not being blocked entirely. The partial eclipse in turn, leaves a "bright" and "narrow ring" of the surface of the Sun visible, which appears not unlike a ring of fire.