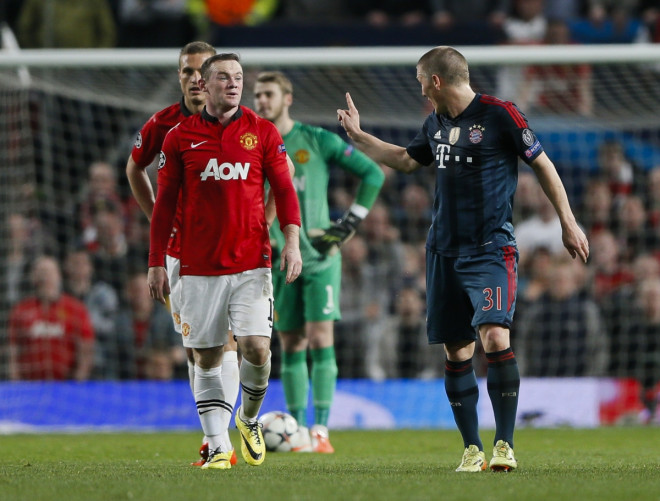 Manchester United have been handed a massive injury blow as Wayne Rooney could miss the Champions League clash against Bayern Munich, next midweek.
David Moyes' side managed a 1-1 draw in the first leg at Old Trafford. Nemanja Vidic's second half header was cancelled by Bastian Schweinsteiger's goal. United are taking on Newcastle United at St James' Park on Saturday.
The former Everton manager confirmed that the England international will miss the weekend league fixture against the Magpies. Moyes admitted that Rooney was doubtful for the Bayern clash due to a toe injury sustained during the midweek European fixture against the newly crowned German champions.
"Wayne's got a badly bruised toe. He picked it up in the game the other night. Whether we were going to play him or rest him, it doesn't matter," Moyes told United's official website.
"He's got a terrible toe and not only will it be a problem for this game, it could be a problem for the Munich game as well on Wednesday. So we need to monitor it. We'll get him treatment all over the weekend and see if we can speed it up."
Rooney now joins Robin van Persie on the treatment table at Old Trafford. The Dutchman picked up a knee injury during their 3-0 victory over Olympiakos last month. The former Arsenal skipper was ruled out for a minimum of four weeks.
With Van Persie sidelined with injury and Rooney being doubtful for the Bayern clash, Moyes is likely to hand Danny Welbeck and Javier Hernandez a place in the starting line up.
The United manager revealed that Van Persie was being treated in Holland and is getting better. However, Moyes admitted that the striker could be out of action for four to six weeks from the time of injury.
"Robin is over in Holland having treatment. We get a daily update on how Robin is and he's getting better. Time is healing it as well and he's doing a lot of rehabilitation work and recovery back there," United manager said.
"He's coming on, as far as we know. I still see it as four to six weeks from when he got the injury. That was what we were told from the doctors and there's not been any reason why it would be any more time or less time. But we'll monitor that."