The latest new era for English football hardly got off to the most inspiring of starts on Sunday evening (4 September), as only a last-gasp Adam Lallana shot that squirmed through the legs of goalkeeper Matus Kozacik prevented Sam Allardyce's reign beginning with an incredibly drab goalless 2018 World Cup qualifying draw against 10-man Slovakia in Trnava.
That 95th-minute effort was reward for England's persistence against a resilient home side, who lost the ever reckless Martin Skrtel shortly before the hour mark following an apparent stamp on Harry Kane, content to continue with the same ultra-defensive approach that saw them claim a goalless draw against the same opponents during the final Group B clash at Euro 2016 in June.
However, a largely lifeless and tediously pedestrian performance – boosted only by the industrious Lallana, a composed performance from John Stones and the second-half introduction of Dele Alli – was hardly indicative of a bold new direction following the rather monotonous four-year reign of Roy Hodgson that was unceremoniously ended by Iceland in Nice.
One of the key talking points in the aftermath of that narrow victory was the role of Wayne Rooney. Having been retained as captain by Allardyce, England's all-time leading scorer and now most-capped outfield player was widely expected to be deployed behind Harry Kane in the no.10 role. This is where he now plays at Manchester United under Jose Mourinho, with Zlatan Ibrahimovic's penchant for dropping deeper offering the necessary space for others to operate in behind.
Rather than fulfil that brief as strongly hinted in the build-up to the game, however, Rooney, tellingly listed as a midfielder in the FA's official squad announcement, reverted back to the deeper role he occupied both under Louis van Gaal towards the end of last season and during that botched European Championship campaign. After escaping the City Arena with a slender victory, Allardyce generated controversy with these frankly bizarre post-match interview quotes about the skipper's position....
He played a bit deeper than he does at United, but Wayne's comfortable, when I talk to him, about the position. He wasn't in a goalscoring position today but his passing was excellent and we ended up getting what we wanted. Against a different team, you may play a different system.

But this is the most decorated outfield player in England. I think that he holds a lot more experience at international football than me as an international manager. Using his experience with a team, and playing as a team member, it's not for me to say where he's going to play. It's up to me to ask whether he's doing well in that position, and contributing. If so, great.
Allardyce appears to be suggesting here that his lack of experience in international management gives him no authority or jurisdiction on Rooney's position in the side, which seems an inexplicable and quite unbelievable admission for any manager to utter publicly. By conceding that it is not for him to tell the player where to operate, is he not essentially accepting, less than two months into his reign, that Rooney's importance essentially far transcends his own and that of his teammates?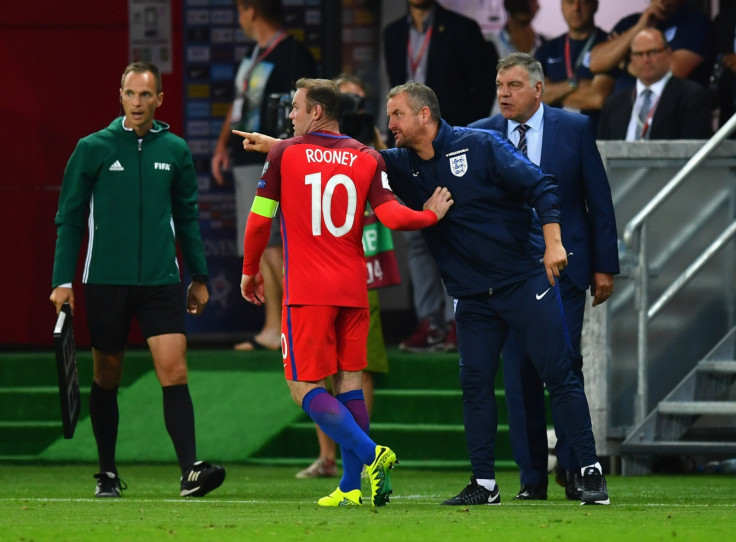 While he is an accomplished Premier League manager whose reputation as a long-ball, anti-football merchant unfairly ignores his long-standing support for modern concepts such as statistic analysis, sports science and psychology, one of the main concerns regarding survival specialist Allardyce's appointment as successor to Hodgson was his relative unfamiliarity in terms of managing big egos at the very highest level. These thoughts on Rooney, so out of sync with his typically uncompromising approach, are an alarming early indication that such worries were more than valid.
If the United stalwart had excelled in his role alongside defensive shield Eric Dier and the frustratingly ineffective Jordan Henderson in an initial 4-1-4-1/4-3-3 system that later became 4-2-3-1 following a change of formation, then this would be far less of hot topic. However, his sideways passing often seemed ponderous, while his presence often only serves to slow down the pace of an attack.
As IBTimes UK stated over the weekend, those expecting Allardyce to instigate sweeping reforms to the England set-up are likely to be left sorely disappointed – not least due to a lack of viable alternative options regarding key issues. However, this obvious overindulgence of Rooney serves as an early warning flag that any forthcoming changes are likely to be minor at best.
His desire to avoid rocking the boat by upsetting a player with such a wealth of experience and previous gravitas is understandable to an extent, but he would do well to ensure that the qualifying campaign for Russia does not disintegrate into a tiresome Rooney retirement tour. A much tougher stance is required moving forward, otherwise Allardyce risks his long-standing credibility being irrevocably tarnished at such an early stage of a job that he has waited so long to take on.