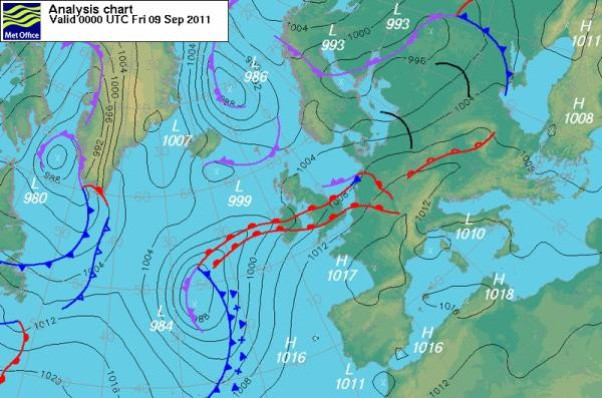 Heavy rain and severe gales are set to hit northern and western parts of Scotland at the beginning of next week in the aftermath of a hurricane.
Scotland faces being battered by gales from Hurricane Katia which is crossing the Atlantic from Bermuda. The aftermath of Hurricane Katia is set to cause stormy weather in Scotland according to Miami forecasters. The US National Hurricane Centre in Miami have informed Reuters that Hurricane Katia is expected to head out into open sea and Scotland was at risk of severe gales and heavy rainfall.
He said it would change from a tropical storm to a "classic wintertime storm" by the time it reached Scotland.
"The remains of Hurricane Katia are expected to come across the UK on Monday bringing a spell of very windy weather.
"There remains a fair amount of uncertainty about its track and intensity, and warning areas may be extended or upgraded to amber in subsequent issues," the Met Office said
A deep area of low pressure is centred to the west of the UK and this will move gradually north-eastwards over the coming days, bringing wet and windy weather to many parts of the country. Two associated warm fronts are marked across the UK, moving north and introducing mild and humid air.
Weather forecasters say winds could gust in excess of 70mph on Sunday and Monday. The Met Office said there could also be severe gale force winds over the weekend even before Katia arrives.
The Met office reports that there still remains a fair amount of uncertainty about the aftermath of the hurricanes track and intensity, and warning areas may be extended or upgraded. The Met Office's best estimate currently is that northern and western parts of the UK are most at risk from very strong winds The Met said much of the UK was likely to see gusty conditions throughout the weekend, with the highest winds over northern and western regions.
"This sort of transition from a hurricane to more of a standard mid-latitude depression is a difficult one to predict with confidence. There's still a fair amount of uncertainty about the track and strength of the winds" Chief Met forecaster Eddie Carroll said.
"Although it will be very windy everywhere, it is uncertain as to exactly which parts of the country will see the very strongest winds - so we advise everyone to stay up to date with the very latest forecast warnings," he added.
For Travel Advice click here