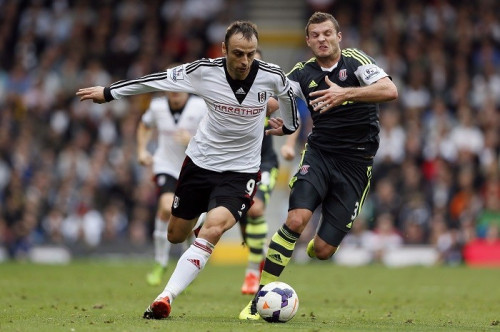 Arsene Wenger has insisted he is not pursuing Dimitar Berbatov though the Arsenal manager admits he rates the Bulgarian very highly.
Berbatov left Manchester United for Fulham in the summer of 2012 and has become an integral part of the west London side's attack.
But with the west Londoners struggling this season amid Martin Jol being ousted as manager it appears that the 32 year old has becoming unsettled at the club after his agent confirmed he was open to offers.
Arsenal meanwhile are believed to be on the lookout for a striker to take the pressure off Olivier Giroud. With Berbatov offering experience in the Premier League and exemplary performances for both United and Fulham he appears to be a perfect addition for the Gunners' but the manager insists that they haven't made a move.
Wenger told Arsenal media: "You should ask the question, do I rate Berbatov as player? Highly. Have we made any approach to sign Berbatov? No. "
The manager also dismissed the possibility of pursuing Berbatov in the coming weeks, insisting that with Nicklas Bendtner returning from injury he won't likely need to being in more strikers this month.
When asked if Berbatov is a possible option in the coming weeks the manager replied: "I don't think so because we have Bendtner who is coming back, we have Yaya Sanogo who is making very good progress in training.
"Of course we have lost Theo Walcott and that for us was a big blow but hopefully we can compensate. We have not made any approach."
Fulham have insisted that Berbatov is not for sale but should Arsenal come knocking the hitman might be very tempted by the prospect of Champions League football and a serious push for the title.
Wenger has often denied going for signings while behind closed doors he has been finalising discussions with players, but with Bendtner now looking more committed to Arsenal and hoping to become an important member of the squad again the Frenchman might be able to wait until the summer to land a striker.