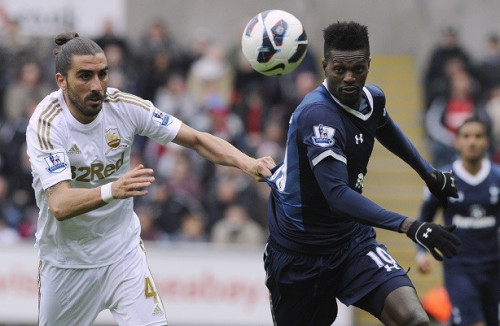 Arsene Wenger says he is well aware of Tottenham striker Emmanuel Adebayor's talent as the former Arsenal man prepares to face his old club in the FA Cup this weekend.
Adebayor was left on the sidelines by Andre Villas-Boas for almost the entire season but when the manager left the club last month the Togo international was handed another chance to impress from Tim Sherwood.
He has so far been on fire for Tottenham, scoring four times in five appearances and inspired them to an important win over Manchester United on New Years' Day.
And Wenger, who managed Adebayor at Arsenal for three years before selling him to Manchester City in 2009, believes that he is going to be the player to stop when the north London sides face one another on Saturday.
"What is amazing for him is how fit he was when he came back – how quickly he adapted to top-level competition again," the Gunners manager told reporters.
"He's a player with special talent, I'm in a good position to know."
Villas-Boas' refusal to play Adebayor this season was believed to be one of the sticking points as Tottenham chairman Daniel Levy lost faith in the manager and showed him the door last month. The striker's current form suggests the Portuguese coach may have made a mistake in not playing the 29 year old who is finding his place alongside summer signing Roberto Soldado.
But Wenger believes that his side will be ready to face a reinvigorated Tottenham as they look to progress in the FA Cup.
"First of all they have lost one big game against Liverpool but if you look at their overall record since the start of the season, it isn't bad," he explained.
"I'm not surprised that Tottenham can win football games. They won at Manchester United but Man United this season, even if I think Tottenham played very well, are a bit more vulnerable. They took advantage well of that because they played at a good pace going forward.
"They are more adventurous. With [Roberto] Soldado and Adebayor [up front], they have found a balance – at the moment that suits the team well.
"They always looked dangerous at Man United and that's certainly the pair that we'll have to keep quiet."