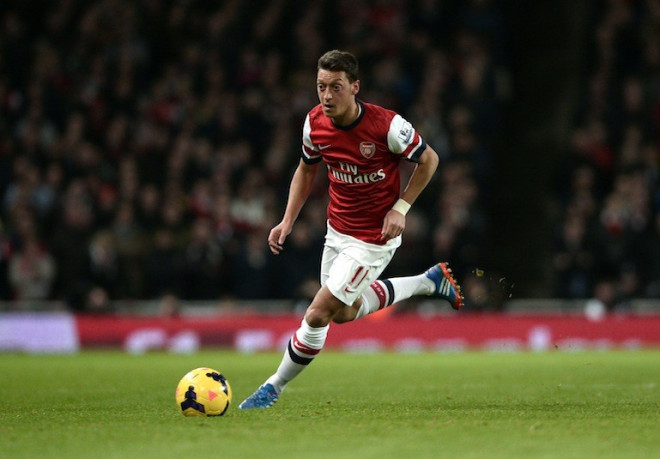 Arsene Wenger is boosted by the return of Mesut Ozil and Thomas Vermaelen for Arsenal's Premier League clash against Stoke City at the Britannia Stadium on Saturday.
The Frenchman will be happy to draft Ozil back into the starting lineup after the midfielder was left out of the squad during the north London club's 4-1 victory against Sunderland at the Emirates last Saturday.
The German international had come under increasing criticism for lacklustre performances this month, which included a missed penalty against Bayern Munich in the Champions League.
The 64-year-old is also facing a dilemma about who to play at left-back after injuries to Kieran Gibbs and Nacho Monreal over the Gunners' last two fixtures. The Englishman suffered a buttock injury against Bayern while the Spaniard was forced off at half-time with a foot injury against the Black Cats.
Vermaelen last featured during the Gunners' 2-0 win against Tottenham Hotspur in the FA Cup in January and since then had been on the sidelines. The 28-year-old has made only three starts in the league this season and could be deputised as a makeshift, if the regular left-backs fail to recover on time for Stoke.
"We have uncertainties about Monreal who had to come off last week with a foot injury, and about Gibbs. Vermaelen is back in the squad, Ozil is back in the squad. Both are available. If needed Thomas can play there, it's not his preferred position and he has been out for a long time now but we'll see," Wenger told Arsenal's official website.
Meanwhile, Aaron Ramsey is still unfit to feature for Arsenal after being out for over two months with a thigh injury.
The midfielder was initially ruled out for six-weeks with a thigh injury during the Boxing Day win over West Ham United before suffering an extended spell on the sidelines last month.
However, Chris Coleman believes the 23-year-old could return to action in March while expressing his disappointment about Ramsey's unavailability for Wales' friendly against Iceland next week.
"It is a shame we haven't got him [Ramsey] but Arsenal have been fantastic with the information they have given us. Unfortunately he is not going to make this one. Maybe he will be fit a week or two afterwards if all goes well in his rehabilitation," Coleman said.