A philosophical Arsene Wenger expressed his surprise at Pep Guardiola's reaction to Barcelona's recent slump in form but cautioned it was impossible to understand the pressure the Spaniard is under at the Nou Camp.
Barcelona relinquished their La Liga crown with defeat against Real Madrid on Saturday before crashing out of the Champions League to a resurgent Chelsea on Tuesday.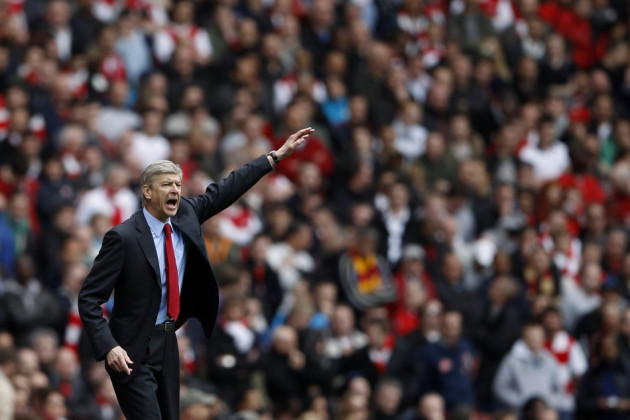 Guardiola announced his decision not to extend his Barcelona contract beyond the end of the season at a press conference on Friday, ending his almost 30 years association with the club. It is a decision the Spaniard is believed to have been contemplating since November but Arsenal manager Wenger insists the Barca coach will have agonised over his conclusion.
"It comes as a surprise to me," Wenger said ahead of Arsenal's trip to Stoke on Saturday. "After a disappointment like he has had in the last week [losing to Real Madrid and Chelsea], it's not always a great time to make such a decision.
"I would have liked to see Guardiola stay and persist with his philosophy at that club. That would have been interesting.
"There are not many managers who work throughout their career without a break.
"You never know from the outside how deeply man suffers inside. I decided the other way, never to move out of a job. It becomes second nature and you never move out of your life."
The Arsenal boss insists he is not interested in taking over from Guardiola at the Nou Camp.
"I'm happy here," he said when asked if he wanted the job.
Guardiola will end his four-year reign at Barcelona having moulded them into one of the greatest club sides of all time. Since taking over from Frank Rijkaard in 2008, Guardiola has led Barca to 13 titles including, three La Liga titles, two Champions Leagues, three Spanish Super cups, one Copa Del Rey, two World Club Cups and two UEFA Super Cups.
Nevertheless, he is believed to have grown frustrated with certain elements of the club's performances and has voiced his dissatisfaction with a few of the squad over their conduct off the pitch. He informed Barca president Sandro Rossell of his reservations on Thursday and he remains adamant the squad will benefit from a new manager and a fresh approach over the summer.