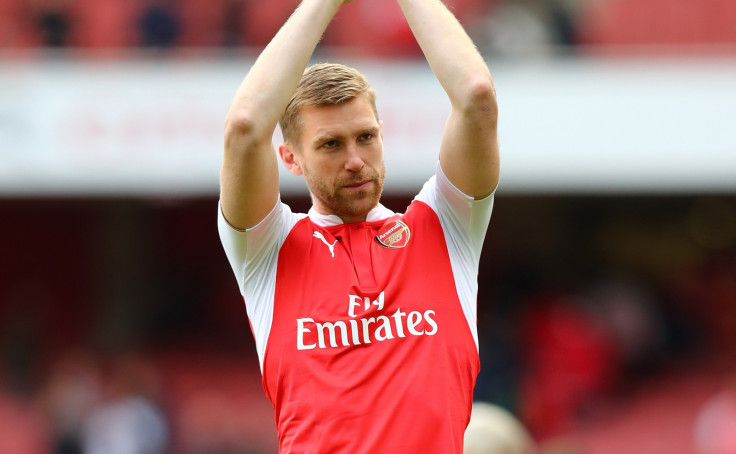 Werder Bremen captain Clemens Fritz would welcome Per Mertesacker joining the Bundesliga outfit. The World Cup-winning defender only has a few months remaining on his contract with Arsenal and has openly discussed the prospect of leaving the Premier League giants in recent weeks.
Mertesacker, 32, played for Bremen between 2006 and 2011. A return to the Weserstadion appears to be an increasingly likely prospect, with Fritz declaring that Mertesacker would be "a great gain for Werder".
"It would be a good thing for the club," Fritz told Bild of the current Arsenal captain. The Bremen skipper also revealed he has held discussions with his former teammate about the prospect of him returning to the club, saying: "We've talked about it [a return to Bremen]."
The confession comes shortly after the Arsenal defender admitted he was weighing up his future as he continues his recovery from a long-term knee injury. "I ask myself what would make sense if things were to end at Arsenal. Where can I be of any help? What do I want? Could I maybe return to Germany?" Mertesacker told Kicker.
He added: "I look at the perspectives for me and my family, and I think that I'll intensify those thoughts from January on. That's also the time when you can listen to other things, when your contract is expiring."
Mertesacker has been working on his comeback at a rehabilitation clinic in Donaustauf, Germany, and said he is determined not to return to action too soon. The Arsenal captain explained that a steady recovery from his injury can help to extend his playing career.
"I know that I need to allow myself time," shared Mertesacker, who is expected to return to competitive action in early 2017. "The more time I allow my knee, the longer I'll be able to play football."