Mesut Ozil has hailed defender Per Mertesacker as a "role model" in the Arsenal dressing room.
Gunners captain Mertesacker, 32, suffered a knee injury in a pre-season friendly in July and is yet to make an appearance for his club this season.
Ozil revealed that the veteran Germany defender, who is in his sixth season at the Emirates Stadium, had a positive influence on the squad even during his time on the sidelines. "Firstly, I want to take my hat off to Per," he told the Evening Standard. "Injury is keeping him out for a long time and I know that sort of injury isn't easy to deal with.
"You want to help the team and be part of a side that plays successful football. I sincerely hope that he comes back really quickly.
"As a person I've known Per for a while because we've played together in Bremen, for the national team and here too," he added.
"I can only say positives about him. He gives everything for the team, not just for himself but for everyone. Off the pitch, he watches the games and comes into the dressing room."
"He's just a role model and we're so pleased to have him here. I want him to get fit against and back on the pitch as quickly as possible," the defender explained.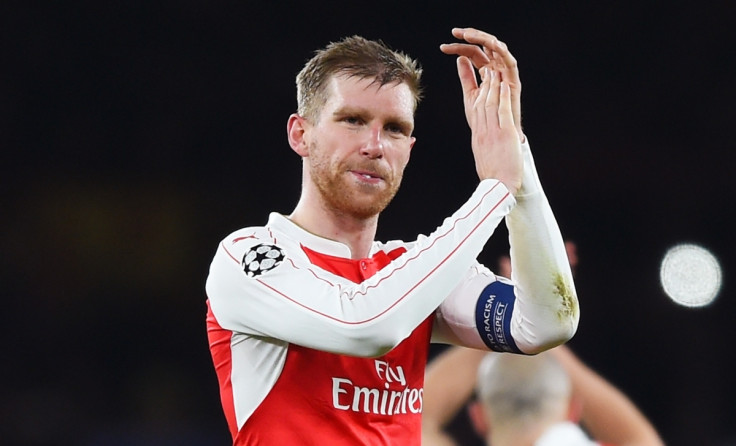 Mertesacker said earlier this week that he was targeting a return to training in November and vowed to be an "important" player for Arsenal again.
He made 24 league appearances for Arsenal in the 2015/16 season and has one year left on his current deal with the club. "I believe that I can reach a level again on which I am important for the team. I have the feeling that this is not the end," Mertesacker was quoted as saying by ESPN.
The 32-year-old added that the Gunners were among "six or seven teams" that could go on to win the league this season.