The west coast of Australia is on red alert ahead of Tropical Cyclone Christine, which is expected to make landfall at midnight WST.
Australia's Bureau of Meteorology said the cyclone has a "very destructive inner core" and warned that areas along the west coast, from Wallal to Onslow, will be affected by the storm.
Winds are expected to reach up to 200km/h and be accompanied by heavy rainfall, with over an inch expected to fall per hour.
Storm surges of up to five metres are expected and residents have been warned to stay indoors, with flooding a high risk.
The Bureau said areas affected will include Port Hedland, Karratha and Onslow, and the impact zone will extend inland to Paraburdoo, Tom Price, Newman, Jigalong and Three Rivers.
A statement from the Bureau said: "The very distructive inner core of Severe Tropical Cyclone Christine is now on the coast between Port Hedland and Karratha. The system is now moving further away from Port Hedland and winds there are slowly easing.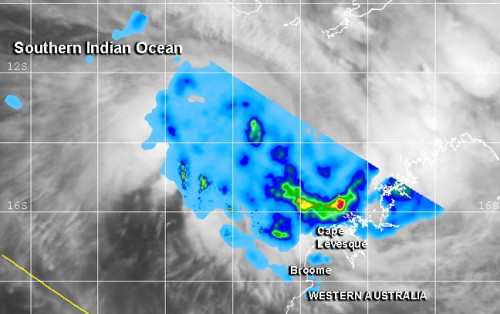 "In the Karratha area winds are slowly intensifying as Christine comes closer. Christine is expected to continue on a south southwest track and the centre is likely to cross the coast close to Whim Creek by about midnight.
"People on the coast between Pardoo and Wickham including Port Hedland are warned of the potential for a very dangerous storm tide tonight. Tides may rise significantly above the normal high tide mark, with damaging waves and very dangerous coastal inundation."
The bureau's Neil Bennett told ABC that the cyclone will intensify as it crosses the coast: "We could see wind gusts in excess of 130 kilometres an hour being generated, and then right around the core as it crosses the coast we could see winds even stronger than that, perhaps as strong as 200km/h or even greater.
"We're also expecting some widespread heavy rainfall; 150-300mm possibly. This is a very powerful system and one that needs to be treated with a great deal of caution."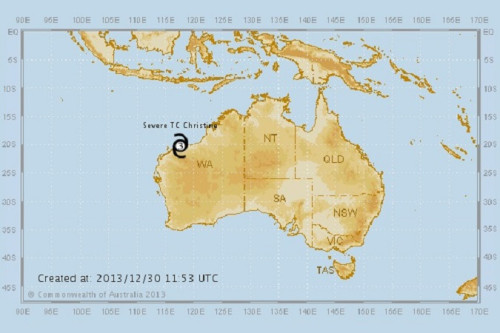 Nasa and the Japan Aerospace and Exploration Agency's Tropical Rainfall Measuring Mission has also reported a "hot tower" thunderstorm in the storm reaching around 17km in height.
A hot tower is a tall cumulonimbus cloud that reaches the top of the troposphere – the lowest layer of the atmosphere. They are called hot towers because they rise to such a high altitude. Water vapour releases their latent heat as it condenses.
Les Hayter, from the Department of Fire and Emergency Services, said they are most worried about flooding.
"Our biggest concern is the water; we've done a lot of preparation, particularly in the Port Hedland area with regards to that flooding possibility. It's a waiting game now, we just have to see how this thing pans out."