Palace Offer Escape Route for Embarrassed Nigerian - Report
Popov apologises for spitting on Kyle Walker
Crystal Palace manager Ian Holloway may provide Peter Odemwingie a way out of West Bromwich Albion. The Nigerian was involved in an embarrassing deadline day mishap with QPR.
The player now looks set for a loan move to Crystal Palace, according to the Guardian. The emergency loan window for Championship clubs opened today. The terms of the deal will involve the option for a permanent transfer at the end of the season, with an additional fee should Palace gain promotion to the Premier League.
Crystal Palace will be keen to reinvest some of the £15m they received from Manchester United for Wilfred Zaha. Zaha has been loaned back to the London club until the end of the season.
Albion defender Steven Reid has insisted the Odemwingie situation has not affected the mood in the dressing room.
"We've got a strong group with a lot of leaders in the dressing room who have good, strong characters," Reid said, "It's a matter that the club are dealing with now and I'm not sure what the outcome will be. It's up to them how they deal with that."
West Brom lost 0-1 to Tottenham in their last Premier League game.
Popov Apologises for Indiscipline
West Brom defender Goran Popov has apologised for spitting on Kyle Walker during the Baggies' defeat to Spurs. Popov received a red a card for the incident, turning the game in Spurs' favour.
"I want to say sorry to all my friends, my team-mates and the coaching staff," Popov said, "This is not good for me and I have not slept too well over the last two or three nights. Something like this has never happened before in my life."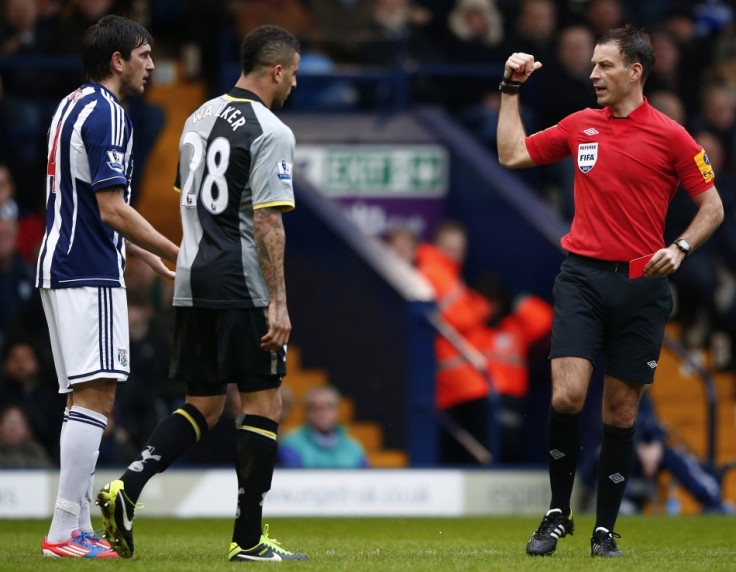 West Brom were in contention for a result against Spurs before the spitting episode, a fact which is not lost on Popov.
"The players were angry after the game, and some of them - the ones who have been a long time at this club - said they are disappointed in me," he added, "On Thursday I want to make a meeting and say sorry to everyone who works at this club. I don't want all the fans, players, trainers and staff to change their mind about me. I'm not that kind of player."
The Macedonian player also wishes to apologise to Walker.
"I'm trying to get a phone number for Kyle Walker but he is now with his national team," Popov said. "When I get his number I will call him and say 'I'm not like this, I didn't want to do this to him and a big sorry'."
West Brom faces Liverpool at Anfield on Monday. A win for the Baggies would lift them above the Reds in the Premier League table.
© Copyright IBTimes 2023. All rights reserved.