Peter Odemwingie Stranded after Transfer Fiasco
West Bromwich Albion striker Peter Odemwingie has left himself in an awkward situation at the Hawthorns after his failure to force a move through to QPR, despite the Baggies not giving permission for a transfer.
The 31-year-old Nigerian was spotted by television cameras at Loftus Road on deadline day, under the apparent belief a fee had been agreed and personal terms were to be worked out. Unfortunately for him, no such agreement had been reached between the Premier League clubs and Odemwingie was left red-faced; the player was turned away from the stadium.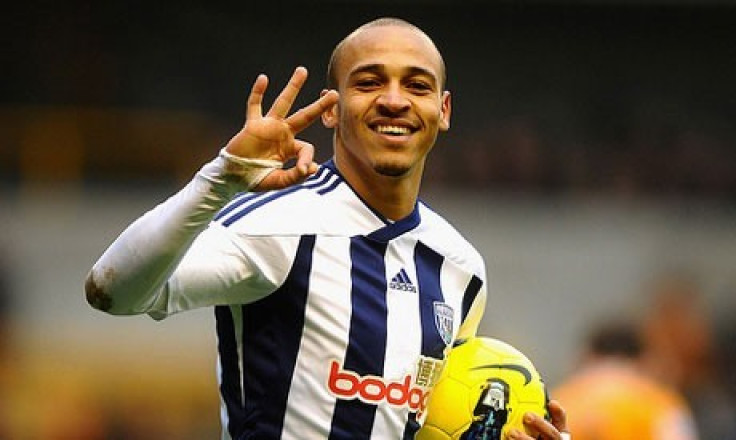 "He was not allowed to enter the stadium. We would never disrespect another club by speaking to one of their players without permission," the Rangers' chief executive, Philip Beard, said.
Sitting in his car outside Loftus Road, Odemwingie insisted the transfer would happen and he would join QPR.
"West Brom is my home but QPR is a new chapter. I just hope West Brom will be happy. I am very optimistic the transfer will happen," Odemwingie explained.
Meanwhile, the Rangers' boss, Harry Redknapp, suggested Odemwingie may have been misinformed.
"It was all a bit of a mix-up but it wasn't any of our doing. Maybe he was advised he should turn up here and that the offer had been accepted. I think the wires got crossed somewhere but it's too late now," the ex-Spurs boss said.
The interesting element of this story is QPR did make two bid for the Nigerian forward in the final week of the January transfer window. The Guardian reports West Brom turned down a £2m offer for Odemwingie earlier in the month before rejecting a larger (undisclosed) amount.
Odemwingie then took to Twitter to express his frustration and was then promptly hauled up by West Brom and is likely to face disciplinary action for his comments. An excerpt of his tweets read:
"Last season January window is when I should have handed in transfer request. Was one foot in Rubin Kazan - not for sale. Fulham. Not for sale. Newcastle. Not for sale. Wigan. Not for sale."
"I say - I have served the club well and deserve at least to have a prise now so I can plan my probably last move in England."
"Loyalty left 70 percent. the rest they stole out of my pocket thinking I was keeping money in there."
Meanwhile, Baggies chairman Jeremy Pearce has labelled Odemwingie's behaviour "unprofessional" and Steve Clarke's club promptly released a statement of their own;
"Albion can confirm that no agreement was reached with QPR over the transfer of Peter Odemwingie before the closure of the January window and that the striker remains under contract at The Hawthorns."
"The Club were extremely disappointed to witness TV footage of Odemwingie arriving at Loftus Road on Thursday evening despite further talks between the two Barclays Premier League sides proving fruitless. Odemwingie was also never given permission to speak to QPR about a potential move."
Pearce also commented: "Peter has acted wholly unprofessionally. He must now accept the fact he remains under contract for a further 18 months and has to focus on his Albion commitments."
© Copyright IBTimes 2023. All rights reserved.