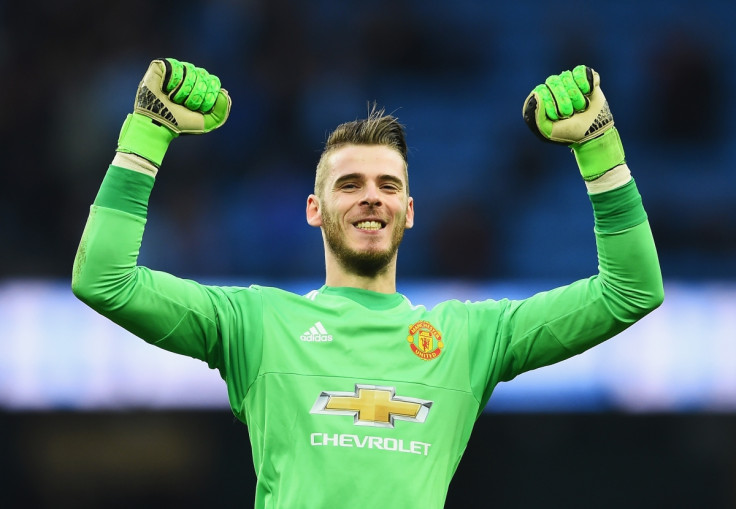 Louis van Gaal has admitted that David De Gea "saved" Manchester United once again during his side's 2-1 victory over West Ham on 13 April, after the Spanish goalkeeper made a string of late saves to deny the Hammers a comeback and send his side to the FA Cup semi-finals. The Dutch boss, meanwhile, also heaped praise on Marcus Rashford and Marouane Fellaini after the duo scored both goals.
The academy starlet put Manchester United ahead with a magnificent finish in the 54th minute before the Belgian midfielder doubled the lead 13 minutes later. Yet, James Tomkins' late goal gave the Hammers a glimmer of hope and forced De Gea to come to the rescue in the closing minutes with a number of stunning saves to secure a date with Everton at Wembley.
"When you see the match, we controlled the game for 85 minutes and then suddenly they scored the goal through the kick of Payet, the head of Carroll and of Tomkins – it was also quality. At that time it changed the match but David De Gea saved us. It was a fantastic night," van Gaal admitted.
"He is our goalkeeper. We kept him and that is because he is one of the best you can imagine. I am very happy with him."
Rashford's opener was his sixth of the campaign after the 18-year old forward already netted in crucial victories over Arsenal and Manchester City.
Van Gaal said: "It was a fantastic goal. I was behind him when he dribbled and saw the opening in the corner and thought 'shoot!'. He did it and it's more difficult to do it than to shout it!"
Meanwhile, speaking about Fellaini, he added: "I liked his performance but I have to say that Fellaini always does great. He wants to perform what we have agreed and that I like of him. He had a great game also and scored an important goal, even if it was a little bit lucky."
It was a welcome victory for the Manchester side following a 3-0 defeat to Tottenham which fuelled further speculation over the long-term future of van Gaal at the club, with reports of player unrest over his methods.