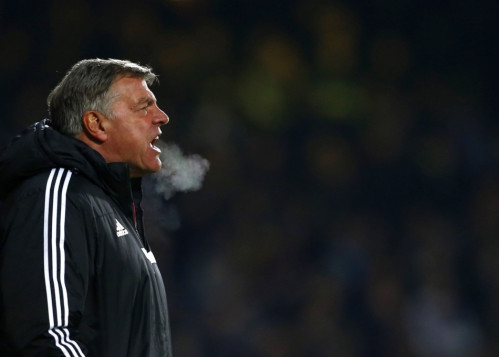 Sam Allardyce is determined to remain West Ham United manager despite a torrent of abuse from angry fans during their 6-0 League Cup battering at Manchester City.
The first-leg semi-final loss comes just days after the Hammers' 5-0 FA Cup third-round humiliation at Championship side Nottingham Forest and has sparked fury among travelling supporters.
"There are times when it is good and there are times when it is not so good. You have then got to draw on your strength and experience," he said.
"It is my job first thing in the morning to get the players up. We have got to get our heads up, shoulders back and chests out and try to bounce back, starting with Cardiff City at the weekend."
He added: "It's life. When you are not doing well you get stick - and I'm getting stick. That's the way it goes and that's the way this job is.
"They have travelled here tonight and we have not done well, so they are going to give you some stick. We are not the first team to get beaten by so many goals here and we won't be the last."
West Ham owners David Gold and David Sullivan had written an open letter in support of Allardyce ahead of the game but fans did not replicate the vote of confidence with the second semi-final leg on 21 January is left now largely futile.
"We fought very hard to get to the semi-final and won some great games and fantastic football matches - but this game fell at the wrong time for us with so many injuries and we have been heavily punished," said Allardyce.
"Defence is where I have the most problems. When our defence was together, we had eight clean sheets in our first 11 or 12 games. We have lost James Tomkins, James Collins and Winston Reid. We also haven't had our biggest investment, Andy Carroll, who we thought was going to get the goals for us.
"If I could have done anything differently tonight, I would have played with Reid, Collins, Carroll and Kevin Nolan but we didn't have them available."
The thrashing at the Etihad came in the form of a hat-trick from Spanish striker Alvaro Negredo, two goals from Edin Dzeko and one from Yaya Toure to put Manuel Pellegrini's side on the brink of another showcase final at Wembley.
The West Ham manager went on to comment on a Manchester City squad who are flying at the top the table this season with a perfect home record.
"When they have got such quality as they've got, we cannot near them," he added. "We tried to get near them, and they laid the ball off with one touch.
"When you buy some of world's most outstanding players, it is as simple as that. Their squad is far better than ours. We have not got a full squad. Even if we had, we might have been beaten but I do not think we would have lost 6-0.
"It is difficult every morning waking up and (seeing) it is and doom and gloom and this and that. We have to accept that is part of the job, and have to take the bad with the good. At the moment, it is not very good. We have got to keep getting players in the right mentality.
"We could've done some things better but when I look at the quality of City tonight, it makes me pretty jealous."
Allardyce's side are second bottom of the Premier League table and will be looking for a Premier League win at fellow-struggler Cardiff to leap out of the relegation zone.