West Ham fans are in hot water after video footage emerged showing fights breaking out among supporters during their side's 1-0 loss to Romanian champions Astra Giurgiu. A clip posted on social media showed punches being thrown in the stands at the London Stadium on Thursday night (25 August 2016).
Footage shows a man appearing to remonstrate with another fan before the second man approaches him. He is then punched in the face while a steward appears to do nothing to stop the fighting as dozens of nearby fans turn to watch. There is no sign of what provoked either men for the trouble to flare. One man was arrested after being taken to hospital and fans have been threatened with banning orders.
The Met Police Police said "We were informed of a fight that took place inside the stadium during the West Ham vs Astra Giurgiu match on Thursday 25 August.
"A man was taken out of the stadium by stewards and arrested on suspicion of ABH [actual bodily harm]. He was initially taken to hospital as a precaution, but now is in custody at an east London police station. Enquiries continue to trace any other people who were involved in the disturbance. Anyone found to have committed an offence will be dealt with by police and football banning orders will be sought where appropriate."
West Ham statement
West Ham United condemn unreservedly the behaviour of individuals involved in incidents captured on video during the fixture against Astra Giurgiu.
This behaviour has no place in football and we will work with the police and other stakeholders to identify the individuals involved. Once identified, they will be banned from attending any West Ham United fixture for life and we will request the courts serve a banning order to prevent these individuals attending any football.
More than 200,000 supporters have already attended our opening at the London Stadium and the West Ham United fans have been magnificent during the first four games. With more than 10,000 Under-16 Season Ticket Holders, we are a family-friendly Club and our priority is maintaining an inclusive environment for all home and away supporters. We will not allow one isolated incident to damage our supporters' and the Club's reputation, hence our zero tolerance approach to this matter.
There has been anger from West Ham fans over the teething problems experienced at the London Stadium since they moved into the London 2012 Olympic venue at the beginning of the season. It followed farcical scenes when season-ticket holders arrived at the ground on Sunday for the first Premier League match of the season against Bournemouth only to discover their seats weren't there.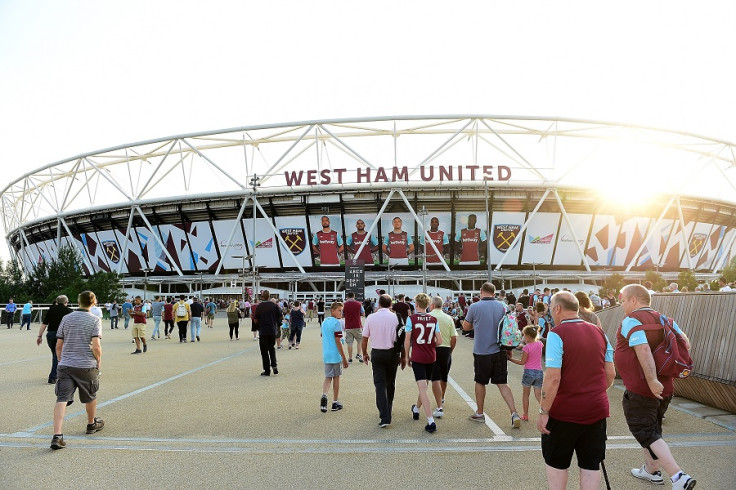 The club blamed an "administrative error" and said they would be in place in time for Thursday's match. The violence came after footage uploaded Youtube showed Hammers fans clashing with Bournemouth supporters outside the east London ground on Sunday (21 August).