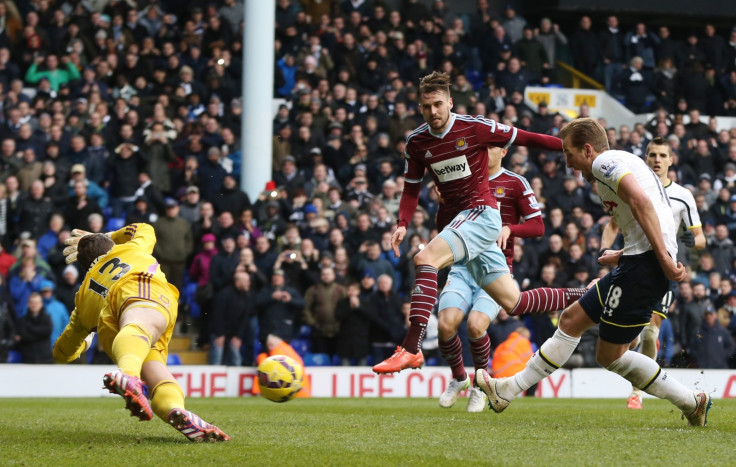 West Ham goalkeeper Adrian San Miguel has told IBTimes UK "it looks like Harry Kane has been touched with a magic wand" after the Tottenham star salvaged a point for Spurs by scoring a 2-2 leveller with the last kick of the game during a dramatic London derby on 22 February.
Adrian's side lead 2-0 in north London with 10 minutes remaining, due to goals from Cheikhou Kouyaté and Diafra Sakho.
But Tottenham got back into the match after Danny Rose scored, before Kane was fouled by Alex Song inside the area to win a penalty in the last minute of injury time.
Adrian saved the kick from 12 yards but Kane followed up to score the rebound and secured a point for Tottenham with his 24th goal of the campaign in 37 appearances – 14 in the Premier League.
"Kane is in spectacular shape. It looks like he has been touched with a magic wand. Everything he tried he got to. He earned a penalty in the last second, he got the rebound after my save and he scored to get his side a draw," Adrian told IBTimes UK.
"He is a great striker. I am sure if he keeps like that he will have the chance to prove it with the national team too."
The Spain international had previously made a great save, following a shot by Roberto Soldado, to hold the lead for West Ham but could not do anything to stop Kane.
Adrian was happy with the both the team's and his own performance but was left frustrated with the final result.
"Personally I feel good. I am getting better every game. I have adapted to the team and to the Premier League but today I left with the bad feeling of having stopped the penalty and conceding the goal in the rebound," he said.
"The truth is that Tottenham have been lucky, especially with that last-minute penalty. I saved it in the first place but the rebound went to Harry and... but this is football. They also had some chances to score before. We knew it was going to be a difficult stadium to play.
"With us 2-0 ahead, we tried to protect [ourselves] playing deeper but they pushed a lot and finally that unlucky penalty cost us the three points."
When questioned whether Song made enough contact against Kane in the penalty incident, he said: "I don't know whether it was a clear fault but the referee decided it was, so..."
"Song was having a great game. He had back luck in that last moment but he is proving every game what a player he is. It would be good to keep him with us ahead of next season."