Sam Allardyce didn't look the least bit suprised when he was informed by a reporter that the club would not renew his contract just minutes after the club's 2-0 loss to Newcastle on the final day of the season. But why would he? Everyone has known for months now that Big Sam would be on his way out of Upton Park, seemingly trapped in a loveless marriage with owners David Gold and David Sullivan, who were only happy to run down the clock on the contract rather than stump-up a hefty severance fee.
It caps a miserable end to what was at one point our most promising season yet in the Premier League. Travel back in time to Christmas Day and every Hammer I know was full of festive cheer, as impressive wins over the likes of Manchester City and Liverpool had propelled us to fourth in the league table.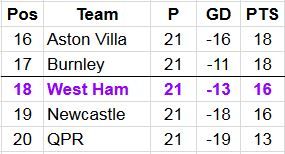 There must have been something dodgy in Big Sam's Christmas turkey, because since then results have been truly woeful. Just three wins in 21 games saw us plummet down the Premier League table to 12th position, the biggest drop by any side in 2015. Indeed, if the Premier League season had started on Boxing Day then West Ham would be 18th, mired in a relegation dogfight. Blame it on injuries, or uncertainty over his future, but there's no question that the performances of the team in the second half of the season were completely unacceptable.
Big Sam was a success at West Ham
But I didn't celebrate like some of our fans did at the news. Instead, I will always be grateful to Sam Allardyce. He has unquestionably been our most successful manager since Alan Pardew, getting us promoted from the Championship at the first time of asking, before even more importantly keeping us there.
Lots of fans had it in for him from day one for his style of football without taking into account just how hard it is to stay in the Premier League. Anyone who arrogantly assumes that West Ham is a Premier League club should be reminded that titans of English football like Newcastle and Aston Villa were nearly relegated this season, and that Leeds are still yet to make a top-tier return since their dramatic collapse. It might never have been fairytale football, but there's no question that for the most part, he delivered results.
Still, past glories should never be an excuse for the present. If Gold and Sullivan don't feel that Allardyce is the man to take West Ham forward as we move in the 54,000 Olympic Stadium next year, then I am totally behind their decision to seek a new manager. But they must stick to the criteria that they have set out for anyone coming to the club and show a lot more ambition than what's been suggested.
West Ham must become 'The Academy of Football' again
The bookmakers have touted the likes of Slaven Bilic, David Moyes and Harry Redknapp as favourites to take the hot seat at Upton Park, all short-term moves that hardly set pulses racing. Not even in my most fevered dreams would the likes of Jurgen Klopp, Rafa Benitez and Carlo Ancelotti say yes to the job, but the owners certainly need to land someone who suggests a bright new future as the club enters a new era.
My dismay with West Ham in recent years has not been directed so much at Alladryce's
leadership but how the club have lost their identity. When the team comes out of the tunnel at the Boleyn Ground they are greeted with the words 'The Academy of Football', a reference to the three home-grown West Ham footballers who played a pivotal role in England's 1966 World Cup win; Bobby Moore, Geoff Hurst and Martin Peters. The east end has famously been a hot bed for talent, and right up until the start of the 21st century the club were producing exceptional youth players such as Rio Ferdinand, Frank Lampard, Michael Carrick, Jermain Defore and Joe Cole.
Now the only academy player to have established himself in the senior team in the last decade is Mark Noble, although 18-year-old defender Reece Burke looks promising. I'm not saying that Upton Park can become London's La Masia overnight, but the owners and fans should realise that the recent success of clubs like Southampton have been built on the foundations of their talented academy graduates.
For this reason I think there is only one name that should be on Gold and Sullivan's list of potential new managers - Frank de Boer. The 45-year-old has won four consecutive Dutch league titles as manager of Ajax based almost exclusively on a policy of playing attractive possession-based football and nurturing home-grown talent. Surely he would relish the chance to do that in the Premier League, with a relatively wealthy club that has a shiny new stadium on the horizon? It would be an appointment with the bigger picture in mind, one that could hopefully see West Ham fighting every season near the top of the table based on a sustainable academy system.
The era of Big Sam is over. We must now enter one of big ambition.