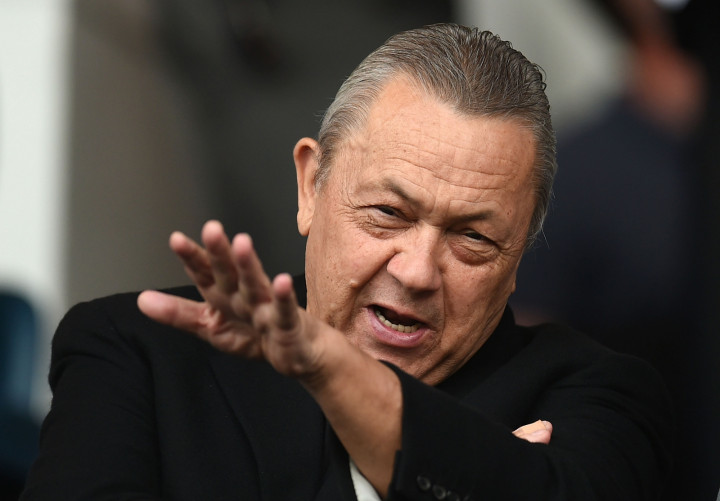 West Ham United's pursuit of a replacement for Andy Carroll has led the club to make bids for four strikers, according to co-owner David Sullivan.
Carroll is out until November after tearing ankle ligaments during pre-season training, forcing the club to move quickly to cover for the England's international's lengthy absence.
Enner Valencia and Mauro Zarate have joined this summer but West Ham want to add another forward to their attack and Sullivan says as many as four bids have been submitted with less than four weeks of the window remaining.
"We've got offers in for three or four strikers - one in England, three abroad - and we just hope to land one of them," Sullivan told the club's official website. "We do need to sign another player.
"We have worked 24/7 all summer and we still want to get at least one more striker in. It's been very, very tough but we're pleased with what we've got - there are players with massive potential for the future but we know there isn't enough goals in the team at the moment."
Though Valencia, who scored three goals for Ecuador at the World Cup, is West Ham's marque addition this summer Sullivan says the player is unavailable for the start of the season – adding to the club's forward problems.
"The player we've spent the most money on, Enner Valencia, is our big summer signing and he is about two or three weeks away from being able to play, because he was at the World Cup," he added.
"He's now in full training but I think the earliest he'll play is in the Capital One Cup match, so it'll be exciting for people to see him make his debut in that match.
"We were looking at Enner from before the World Cup, when Ecuador played Australia at Crystal Palace and he was the leading goalscorer in Mexico.
"He might be in the top five scorers in the Premier League next season, he might take time to adjust, you just don't know with foreign players, but potentially he's a top, top player."
Along with the injury problems surrounding Carroll, West Ham have endured torrid preparation for the new season having won just two of their eight pre-season games against Espanyol and Schalke 04 on penalties.
That run of form follows manager Sam Allardyce committing to a new style of play and Sullivan admits this summer has worked as anything but ideal build-up for the season opener against Tottenham Hotspur.
"The pre-season hasn't gone quite as planned - the worst thing is that we picked up injuries and in particular Andy Carroll, who is out for four months and makes a huge difference to us," explained Sullivan
"We've got to overcome these things and if you look at the history of football, often people with a good pre-season have a terrible season, and people who have a bad pre-season have a good season.
"Like everybody we're looking forward to the season with a little bit of nervousness. It's what happens in those first three or four league games that matters, not what happens in pre-season."