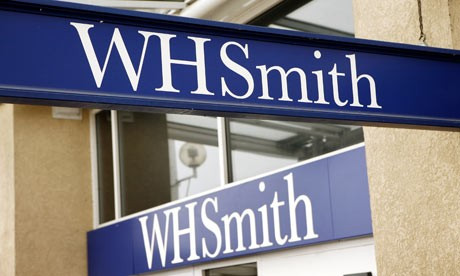 Shares in WH Smith were up on the FTSE 250 in morning trading after the retailer reported a rise in pre-tax profit in the full year ended 31 August and a double digit dividend rise.
Sales however were down, with group total sales falling two per cent and like for like sales dropping four per cent. The group's Travel division saw total sales rise one per cent but like for like sales drop two per cent. High Street total sales fell four per cent, as did like for like sales.
Despite the drop in sales however pre-tax profit was reported as being up nine per cent to £89 million, thanks in part to a record performance from the group's Travel division. Operating profit at the Travel division rose 10 per cent to £53 million, while in the High Street division operating profit was up four per cent to £51 million.
WH Smith said that its cash position was improved from last year, with net funds up from £45 million last year to £56 million. The group added that it had identified savings of £13 million in its High Street division.
The group said that it would be raising its final dividend 18 per cent to 13.3 per cent. The group's full year ordinary dividend is also to be raised 16 per cent to 19.4 pence per share. In addition WH Smith said it would be returning up to £50 million in cash to shareholders through its rolling share buyback programme.
Kate Swann, Chief Executive of WH Smith, said, "We have delivered a good performance, with Group profit up 9% to £89m, ahead of expectations. Travel delivered record profit in the year and we saw further profit growth and strong cash generation from High Street.
"We are announcing today the return of cash of up to £50m to shareholders via a rolling share buyback, together with a proposed final dividend increase of 18%.
"We are a resilient business with a strong and consistent record of both profit growth and cash generation and are well-positioned for continued growth in the future."
By 09:40 shares in WH Smith were up 4.88 per cent on the FTSE 250 to 477.20 pence per share.