A ten-tonne dead minke whale was washed up onto an Essex beach after most likely being hit by a ship in the Thames Estuary. The whale measuring 35ft (10.6m) had been seen floating near Ministry of Defence (MOD) land on East Beach, Shoeburyness, and was then found washed ashore on 4 January.
Government agencies such as the coastguard and the Maritime and Coastguard Agency (MCA) along with the Natural History Museum and the Zoological Society of London (ZSL) were called to the Essex beach to inspect the dead mammal. Although the whale does not pose any environmental risk it is not yet known how the whale will be disposed of.
The minke whale is common in the northern hemisphere – especially in the North Sea near Scotland, Norway and Iceland. Restrictions on hunting them have led to an increase in sightings but examples of their being found in estuaries in the southern UK are still very rare.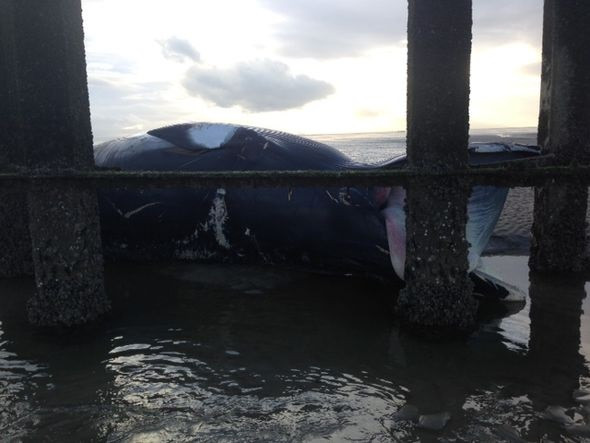 Experts believe that the whale was a fully grown female which most likely was killed by a ship. A spokeswoman for UK Coastguard told the Express: "The Coastguard Operation Centre in Dover, was notified of a whale at East Beach, Shoebury at about 6.40pm on Monday. They sent the Southend Coastguard Search and Rescue Team to the area almost immediately to ascertain its position.
"They found the whale but the light was fading quite badly so there was not anything they could to at that point. It was identified as a minke whale measuring 35ft long. It's believed that it might have been accidentally killed by a passing ship."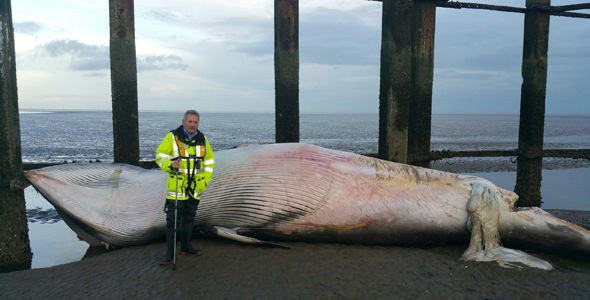 The minke is a type of baleen whale and can swim at a rate of 13mph. They are known to come close to boats and this may have been the whale's downfall in one of the busiest shipping lanes in the UK.
The ZSL's Rob Deaville, project manager for the UK Cetacean Strandings Investigation Programme , analysed the scene. He said: "Having carried out a limited field post mortem examination, initial findings indicate that the whale was in good nutritional condition, but had a deep wound on the left side of the tail, with associated fracture of the spine. This is consistent with physical trauma, probably as a result of ship strike."
In November 2014, a pod of pilot whales was spotted in the North Sea near Mersea Island. Of the 40 seen in the shallow waters of the River Blackwater, near Maldon, two were found dead.