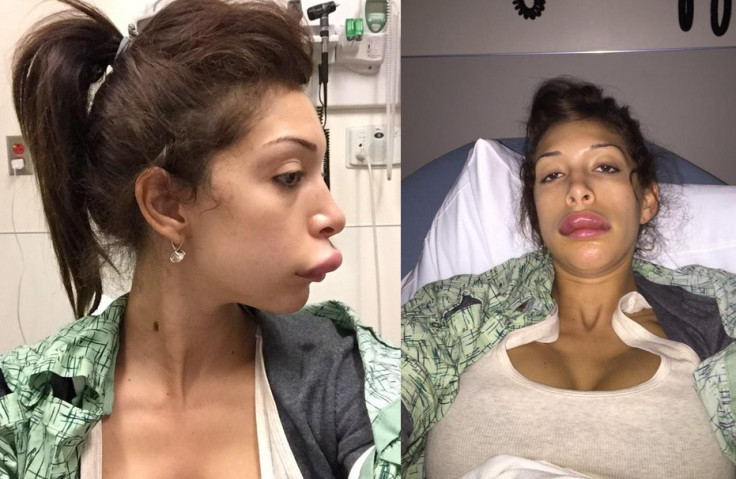 Former Teen Mom star Farrah Abraham has warned fans against lip injections after her cosmetic procedure went horribly wrong.
The 23-year-old reality star-turned porn actress, who previously received a breast augmentation, a chin implant and rhinoplasty, found herself in ER after she had an allergic reaction to her latest enhancement.
She left her 979,000 Twitter followers stunned when she posted two images showing her drastically altered look and new duck lips.
In one photo the MTV favourite shows her face in profile while another shot is of her sitting in a hospital bed with a Nova patch on her arm.
She captioned the snaps: "Girlfriends don't say I didn't warn ya ! #BOTCHED."
According to TMZ, Abraham opted for implants instead of the standard fillers. She had an allergic reaction after the doctor injected her with an anaesthetic before the procedure.
Although many fans offered their sympathy and sent her messages of support, she was also mocked relentlessly on social media.
While some critics compared to her to Turanga Leela from the animated series Futurama, others claimed she looked like a character from The Simpsons.
The entertainer hit back with a little humour of her own.
The last time Abraham made headlines it was for something a little more raunchy.
In 2013, Abraham starred in sex tape Farrah Superstar: Backdoor Teen Mom, which she sold to Vivid Entertainment for $1.5m. Her porn debut attracted more than two million visitors to the Vivid website in just 12 hours, causing the site to crash.
"I've gotten a lot of compliments from men and women telling me this is the best sex tape they've ever seen from a celebrity, so I'm humbled," she said at the time.