What has happened to Uma Thurman's face? Uproar as Kill Bill star 'does a Renee Zellweger'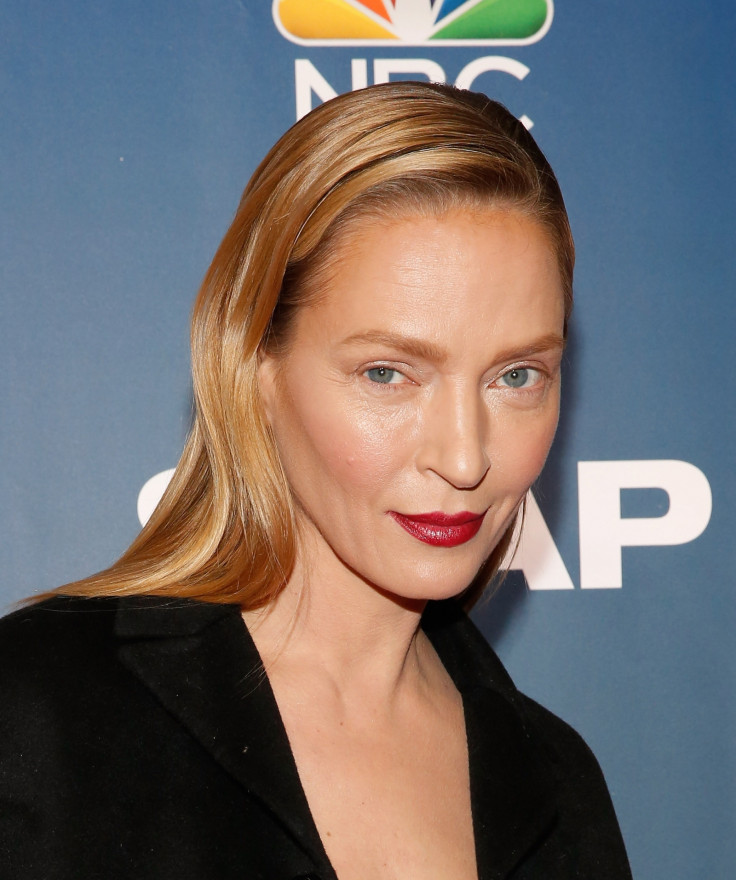 Months after Renee Zellweger unveiled a dramatically altered face, Uma Thurman has sparked speculation that she may have also gone under the knife.
The Kill Bill star, who is considered to be one of Hollywood's natural beauties, was barely recognisable when she recently stepped out to the New York premiere party of her TV mini-series, The Slap.
Thurman replaced Mary-Louise Parker on the NBC show - based on Christos Tsiolka's bestselling novel - after the Weeds actress pulled out due to illness.
With a peachy complexion, tight smile, fuller cheeks and smooth skin, the mother-of-three looked like a different woman as she posed on the red carpet.
Her swept-back hair, mascara-free eyes and hot red lips also drew attention to her altered look - but she turned heads for all the wrong reasons.
While she has not commented on the speculation, it didn't stop fans from venting their disappointment and outrage online. Considering Thurman has never spoken about any desire to undergo plastic surgery, many were particularly shocked that she had apparently traded in her natural look for a startling new appearance.
The Daily Mail even called on medical experts to break down exact parts of her face that may have been "too overdone".
"The thing that strikes me most is that her eye area looks very different. It looks as though she's had a recent lower blepharoplasty treatment, also known as eye bag removal," said Mark Norfolk, clinical director at Transform Cosmetic Surgery.
"She isn't wearing any eyeliner or mascara, probably in order to avoid infection from the new surgery.
"Her face shape seems to have changed significantly – her face looks less defined. I would say that she's probably had a recent course of strong chemical peels as well as some dermal filler injected into the cheeks and nasal labial area; which is all contributing to this swollen-looking finish as it can have this effect immediately after undergoing these treatments."
Thurman previously compared her life to Benjamin Button, insisting that she feels younger the older she gets.
"I feel like I lived my life backwards. Like Bob Dylan said, 'I was so much older then; I'm younger than that now.' Getting older has been a process of realising that I wasn't as grown up as I had thought," she told W magazine in 2009.
"When I was a teenager people often referred to me as jaded or knowing. It's a classic teen illusion to think you know it all, but I've certainly learned I don't. I've certainly learned the hard way. And that's kind of nice, to realise that just when you think you've figured it out, life surprises you."
© Copyright IBTimes 2023. All rights reserved.