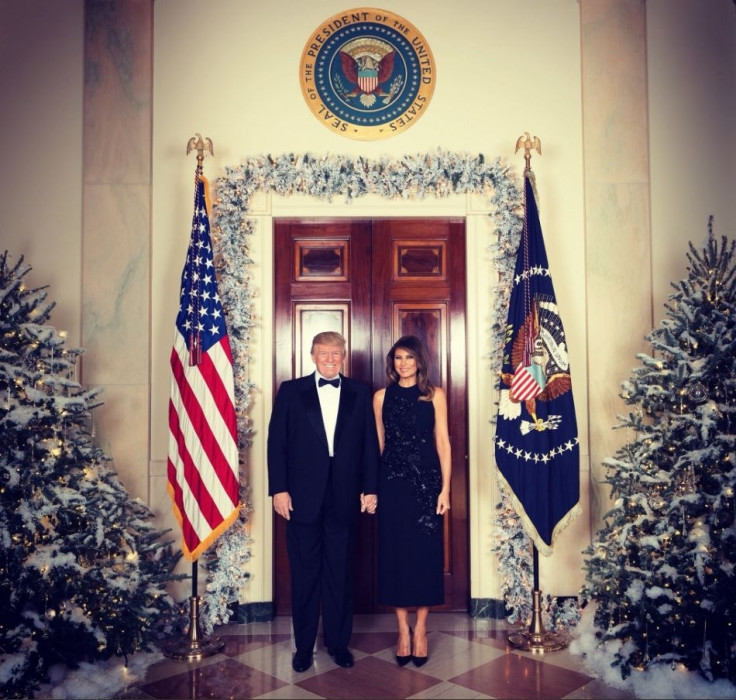 White House is beaming with Christmas cheer and to celebrate the holiday spirit, Melania Trump shared the official portrait of the first family of the US. The First Lady looked gorgeous in a black sequined dress with matching heels as she posed with President Donald J. Trump, who wore a black tuxedo with a matching bow-tie. The official holiday card was photographed by Andrea Hanks.
"Merry Christmas from President Donald J. Trump and First Lady Melania Trump," she wrote on Twitter for their "official 2017 Christmas portrait" as the smiling couple posed for a joyful picture while holding hands. However many noticed that the official holiday card from the White House was missing one important member – Barron Trump.
The post was flooded with queries from curious Twitter users. "Where is Barron? He definitely should have been included. Seems odd that he was not," one user asked. "Every first family always included their children and we are used to it and do not like that he is hidden," added another.
The 11-year-old son of the first couple was last seen during the ceremony to pardon the National Thanksgiving Turkey and later while returning from their Thanksgiving holiday trip.
Some Trump loyalists argued that bullying was a reason behind Barron's rare public appearances. "He is hidden because too many people's harassing them," tweeted a fan.
The 47-year-old Melania, who has comfortably slipped into the role of the First Lady since Trump took over the office one year ago, continues to spread the holiday cheer as she joined the U.S. Marine Corps Reserve Toys for Tots programme at the Joint Base Anacostia-Bolling on Wednesday, 13 December.
"On a personal note, as my first year as the First Lady comes to an end, I have had the privilege to witness the spirit and resilience of so many people in our country," she said during the ceremony. "After this year's devastating hurricane season, I hope everyone watching at home will consider giving back through programs like Toys for Tots."
"I've seen people from all over our great nation pitch in to help those who lost everything, and I want to challenge people to continue with that giving spirit over Christmas and in the new year." she added.