(This story has been updated to include additional information to show that white children were also part of the White House tour.)
The White House is gearing up for Christmas and First Lady Melania Trump has been busy decorating the official residence of Potus. After being sharply criticised for her "white-themed decoration," she has now been accused of inviting only black children to the White House.
A video was shared on The Shade Room's Instagram account, which shows the 47-year-old welcome a number of black children into the White House with warm hugs.
The First Lady is seen in a high-neck white dress accessorised with a gold waistband. "You look like an angel," one of the children compliments her. However, not everyone seems to be impressed with Melania's meet and greet sessions with the children, with many calling it a political move.
"Has anyone notice their pattern of using black kids as props on ALL of those photo opts," one Instagram user wrote.
"Understand what the first lady is trying to do this is beautiful but the fact that all the children are black still makes it look somewhat of races that should have been mixed race," added another. "They had black kids there on purpose," said a fourth one.
Some social media users thought that the children looked uncomfortable around Flotus and suggested that they were probably forced to hug her. "The kids look so uncomfortable," said one. "They look so forced and ingenuine. They're being used as show ponies to show that they does like her and her husband," added another.
"No, how many times did they practice this scene," said another. "Let's pack the room with black kids so we don't look racist. Then force said black kids to come hug us so we don't look racist," added the fourth one.
However, the social media accusers may not have got it completely right as other images of the event issued by news agencies show the Flotus spending time with white children as well during their tour of the White House Christmas decoration.
Melania, who shares 11-year-old son Barron with Trump, had also shared a series of images on Twitter: "So important to thank our service members for their service, especially those away from their families during the holidays," she wrote.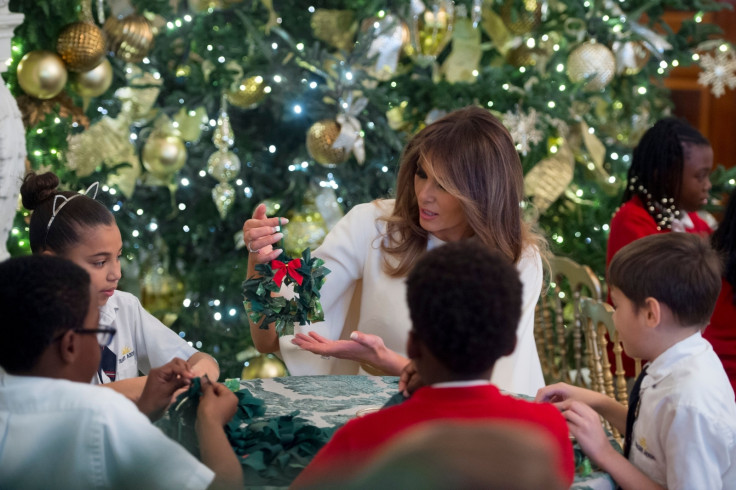 Many social media users pointed out that she looked like Caitlyn Jenner in the images. "I thought this was Caitlin Jenner," one user commented. "I'm not even being funny though, I legit thought that was Caitlyn to alright," added another. While a third one said: "Her and Caitlyn look soooo much alike."
The First Lady has previously invited students from the Boys and Girls Clubs of Greater Washington to engage in gardening activities and has also promoted healthy eating habits.